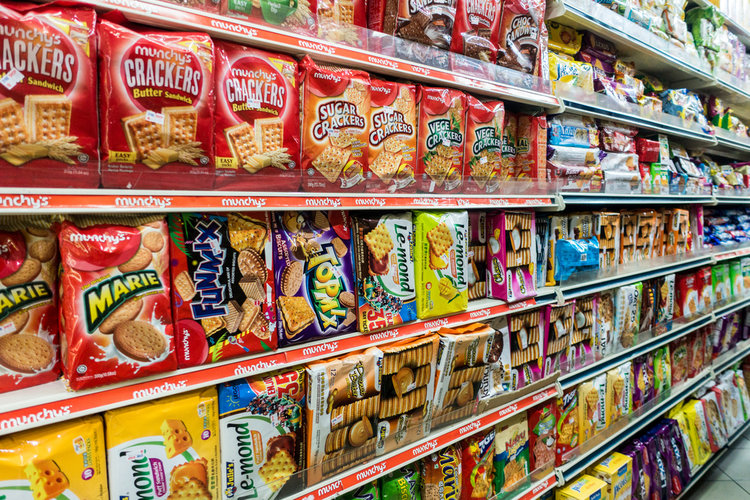 A SUPERMARKET SHELF IN MALAYSIA. PHOTO: SHUTTERSTOCK/ MUHD IMRAN ISMAIL
Large food and beverage companies that have come under scrutiny for using the guise of corporate philanthropy to manipulate nutrition research in the U.S. have exported the practice abroad to developing countries.
Nestlé, along with Kellogg, PepsiCo and Tate & Lyle, a high-fructose corn syrup manufacturer, funded the research of Dr. Tee E. Siong, who heads the Nutrition Society of Malaysia, the New York Times recently reported. Like the U.S., Malaysia, now the fattest country in Asia, has an obesity problem. Nearly half the country's adult population is overweight or obese.
We're gaining a better understanding of the role processed foods and sugar play in fueling obesity and health problems, like heart disease and diabetes, that often follow it. This understanding has come despite meddling from large food companies that funded research pointing the finger away from their harmful products.
Funding for this kind of research can even be written off in many cases as tax-free philanthropic giving. In fact, there's a long and troubling history of corporate giving that's sought to mislead the public and elected officials on critical issues, including nutrition, smoking, climate change and more. Tobacco companies pioneered these tactics decades ago, funding biased research that downplayed the risks of smoking, including studies published in the 1990s that dismissed fears of second-hand smoke. Fossil fuel companies have also played this game, funding extensive research over years that sowed skepticism about human-caused climate change. And last year, the Wall Street Journal reported that over "the past decade, Google has helped finance hundreds of research papers to defend against regulatory challenges of its market dominance, paying $5,000 to $400,000 for the work."
What makes these grants all the more disturbing is that taxpayers have often picked up the tab for funding in the form of philanthropic gifts.
Scrutiny of food and beverage companies for funding biased research and advocacy has been growing, lately. Coca-Cola, for example, came under criticism not long ago for funneling money into the Global Energy Balance Network, which pushed the message that Americans should be more concerned with exercise than diet to maintain health.
Now, as the recent story from the Times shows, it appears that large companies are doubling down on this deceptive strategy in developing countries to bolster those markets.
As part of Nestlé's agreement with Dr. Tee, the company reads the nutrition doctor's research before it's published. In one article, the research was used to conclude that children who drink malted beverages for breakfast, a space dominated by a Nestlé product, were more active and spent less time in front of computers.
Generally, Dr. Tee's research shifts the blame for Malaysia's rising obesity to a lack of exercise, rather than diets high in sugar and processed foods. Sound familiar? It's the same message that Coca-Cola pushed with the Global Energy Balance Network.
Dr. Tee defended his acceptance of corporate funding for research to the New York Times by pointing to a lack of other options. "There are some people who say that we should not accept money for projects, for research studies. I'm aware of that," he said. "I have two choices: Either I don't do anything or I work with companies."
Dr. Tee helped craft Malaysia's dietary guidelines, which some nutritionists say are not harsh enough on sugar, the Times reported. Instead, the guidelines encourage people to limit their fat consumption to 20 to 30 percent of their daily calories, a level once recommended by U.S. dietary guidelines. The U.S. removed the recommendation a few years ago when new research revealed that low-fat diets don't prevent obesity and may even contribute to it.
How the U.S. arrived at its own dietary guidelines is a story eerily similar to Dr. Tee's work with the food companies in Malaysia. Back in the 1960s, the sugar industry paid three Harvard scientists to publish a review of research on sugar, fat and their effects on heart disease. The Sugar Association, which paid the scientists the equivalent of about $50,000 today, handpicked the research included in the review, according to a 2016 story from the New York Times.
The result was an article published in the New England Journal of Medicine pointing the finger at fat, rather than sugar, as the main culprit behind heart disease. One of the scientists, Dr. D. Mark Hegsted, went on to become head of nutrition at the U.S. Department of Agriculture, where he had a hand in drafting a forerunner of what would become the country's dietary guidelines.
Notably, funding for the investigation into the sugar industry's manipulation of nutrition research came in part from the Laura and John Arnold Foundation, a funder IP readers will be familiar with. Getting to the root causes of obesity and fighting it are a big focus of the foundation, which has also given money in support of taxes on sugary beverages. The couple behind the foundation, who got their wealth from oil and gas investments, mostly give to scientific research, but also support education and criminal justice.
Related: Funding the Hunt for Elusive Answers on Obesity
The debate over sugar and saturated fat on obesity and heart disease continues today. After all, U.S. dietary guidelines only amended their recommendations on fat consumption in 2015. Those recommendations led many people to eat low-fat foods, which often compensate for lost flavor with added sugar. Some experts believe that this practice fueled the rise in obesity.
The case in the U.S. shows that this type of meddling from food companies in nutrition science can have real, long-term repercussions for a country's health. So we should be extra vigilant when it comes to examining corporate philanthropy and the motives behind it.
Many of the companies funding Dr. Tee's research do good work through their corporate giving. PepsiCo's philanthropic arm does global development work, like supporting water sanitation in India and Ghana. The PepsiCo Foundation also gave money to build community health centers in Flint, Michigan, during the water crisis, as we've reported for IP.
But corporate philanthropy can also act as a shield for companies that want to look good without hurting their bottom lines. Coca-Cola's Global Energy Balance Network is one example. Another is PepsiCo's $1.2 million gift to curb childhood obesity back in 2014, even as the company, along with Coca-Cola and the American Beverage Association, spent tens of millions to lobby against rules and taxes on sugary beverages in cities like New York.
Want another example? Nestlé lists helping children lead healthier lives worldwide as one of its chief philanthropic concerns. And yet, in Malaysia, the company paid for research that encourages kids to start their mornings with a sugary, malted beverage. If that beverage happens to be a Nestlé product, so much the better.