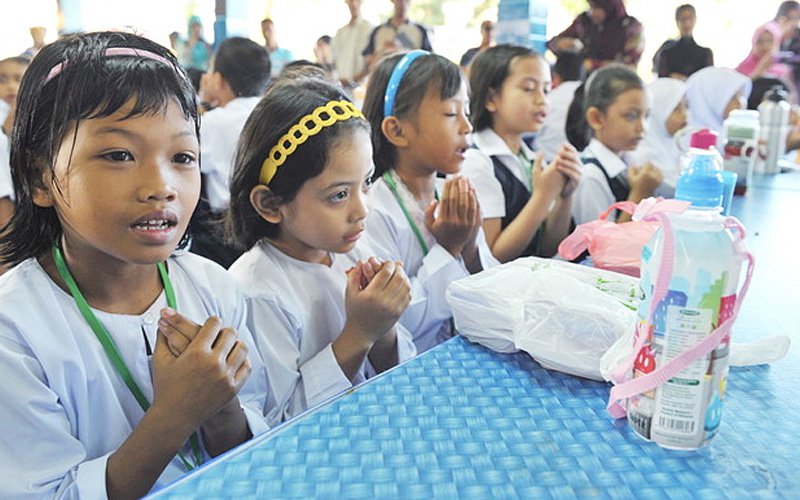 An expert says giving meals during school hours will not be adequate unless food and nutrition standards are set. (Bernama pic)
PETALING JAYA: The United Nations Children's Fund (Unicef) says the current policy of providing free meals for students from low-income households fails to take into account the reality of malnutrition among children.
Siti Altaf Deviyati, a social policy specialist with Unicef, said children from all economic categories should benefit from the education ministry's free breakfast programme which aims to improve the health of children from families in the B40 category.
She said the National Health and Morbidity Survey 2017 showed that problems such as stunted growth were not restricted to those from low-income families.
"Therefore, it is best if it is implemented for all children," Siti Altaf told FMT, adding that limiting the free food programme to the poor could also lead to "stigma and shame" among them.
Siti Altaf was responding to the announcement by Education Minister Maszlee Malik that government schools may provide nutritious breakfasts for B40 children, based on a model followed in Japan.
Former prime minister Najib Razak subsequently said such a scheme was already in place, referring to the Supplementary Food Programme (RMT).
"No need to go to Japan to find out or learn about these things. No need to 'look to the east'. Spend more time understanding the operations of the ministry," Najib, who was once education minister, said.
An aide to Maszlee, Zul Fikri Zamir, later said that RMT was a "recess plan" and not for breakfast, adding that it only benefitted 18% of students nationwide.
Siti Altaf acknowledged that a similar programme was already in place, but said RMT was "not comprehensive".
She said although giving meals during school hours was a well-known form of "nutrition intervention" to address hunger and improve learning, it would not be adequate unless food and nutrition standards are set.
"The inclusion of standards for meals prepared at schools is vitally important to ensure that meals address the nutrition requirements of school-age children and adolescents," she said.
She also urged the government to ensure that the provision of necessary micronutrients, as well as meals served, are in line with the health curriculum in schools.
She said any food programme should address obesity and malnutrition among schoolchildren in Malaysia, two problems found rampant in Malaysia according to the survey last year.