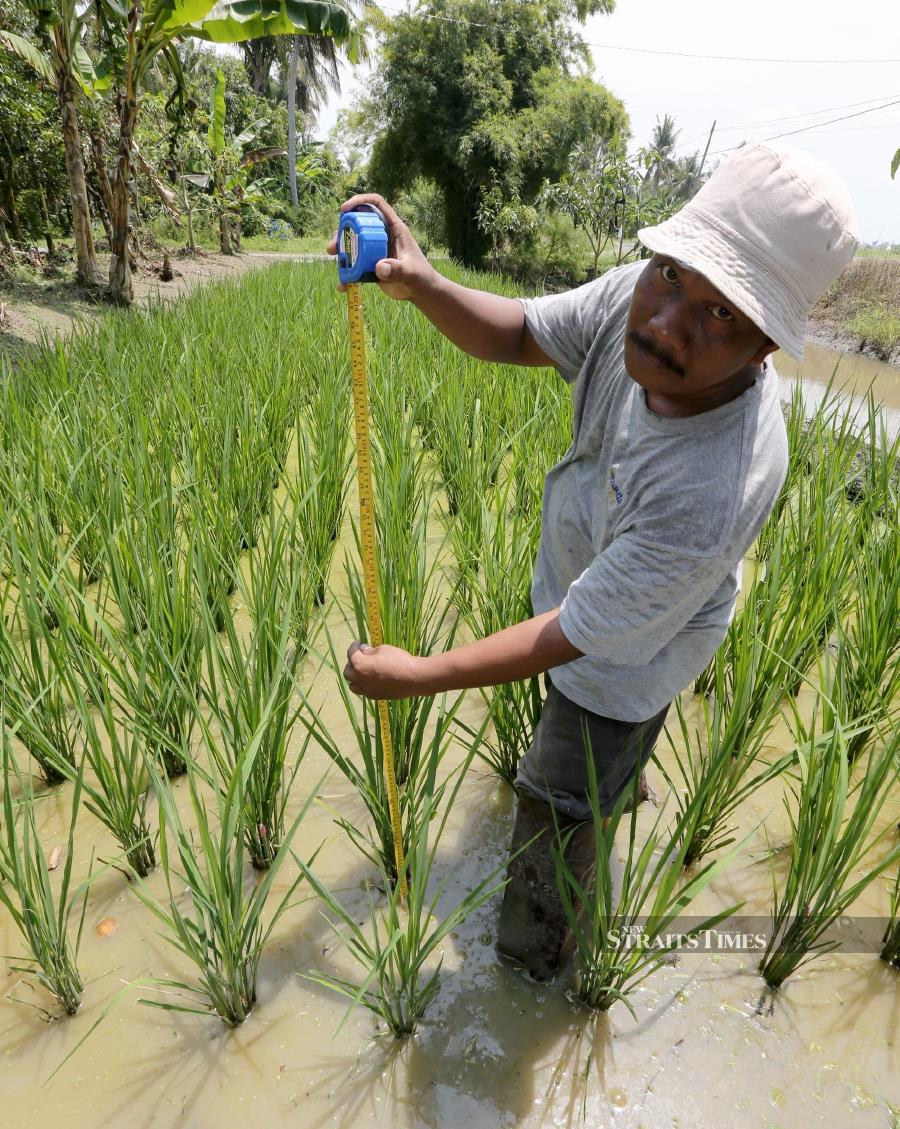 Jaafar Zakaria, 46, was named the Muda Agricultural Development Authority (Mada) Young Farmer Icon today. (NSTP/SHAHRIZAL MD NOOR)
Jaafar Zakaria was named the Muda Agricultural Development Authority (Mada) Young Farmer Icon today.
His most immediate thought was his hope that the younger generation would be given better opportunities to join the farming industry.
The 46-year-old from Sanglang, Kedah, who has been involved mostly in farming padi for more than 30 years, said many youths were interested in farming but were not given the chance.
This, he said, was because farming was always associated with the older generation.
"Out of the total farmers in Kedah, only 30 percent of us are younger.
"The remaining ones are all the older generation.
"The youth have the interest, but no one is willing to give them the chance by giving them business models for them to start out.
"Besides this, it is also difficult for them to get land to plant crops.
"I'm not saying that the older farmers have lost their interest, but if they are willing to give space to the youth, I believe there would be a larger yield," he told the New Straits Times.
Jaafar, who has his own 12ha padi field and a harumanis mango farm, said with technology, the industry would be able to progress more rapidly.
Jaafar, who is committed to adopting new farming technology, has been using a drone to spray insecticide on his padi field and mango farm.
He said he was overjoyed at being named the Young Farmer Icon, saying this was the first time he had won an award in the state.
"It's not easy to win an award, to be an icon for youth.
"I hope this will be an inspiration to others, that anything is possible with hard work.
"Being a farmer is not a nine-to-five job. It requires a lot of sacrifices.
"Since I am in the padi industry, I can say that it's not just about planting and checking.
"A lot of research, trial and error also need to be done to ensure the crops give good yield and the expected results.
"Some days are tougher, but with proper knowledge and hard work, you will be able to overcome problems," said Jaafar, who won the Outstanding Rice Farmer award from the International Rice Institute in Manila last year.
The young farmer has taking part in international conferences in Indonesia, the Philippines, Brunei, and Vietnam to talk about his successes in farming padi.
He said it was important for farmers to join these conferences as this would give them an avenue to discuss ways to improve crop yields.
Jaafar is popular among Kedah farmers.
Many have adopted his method of having a test plot just opposite his house, which serves as a small scale research facility for farmers.
He said, through the test plot, he was able to test for the most suitable farming method to ensure good yield.