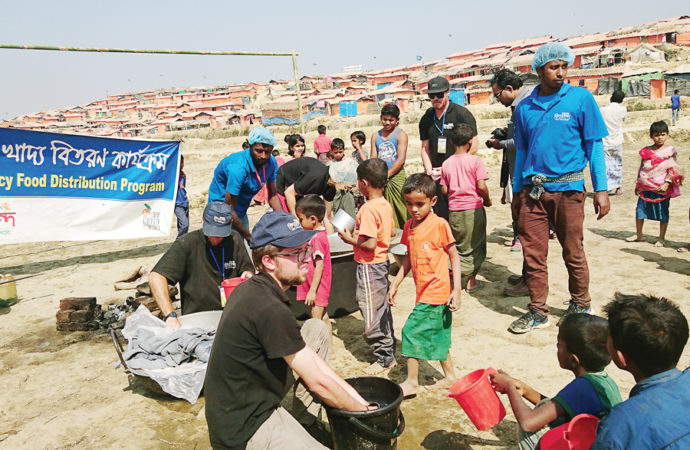 More than 500 kids at the camp get to enjoy different kid-friendly food items every day-BIDYANONDO
The Bidyanondo Foundation wants to expand its operations all around the world, with a vision that no child will remain hungry.
"After coming here [Bangladesh], my family members and I ate 'khichuri' (a food made with rice and lentils) for quite some time. One day, the blue-dressed men came and gave us noodles. I liked the noodles. Many other children also liked it."
"The next day, they gave us boiled eggs. After that, we were given some snacks and they continue to provide us with different types of food. They have brought us a change of taste."
When speaking to Dhaka Tribune, 7-year-old Ramija from Buthidaung's Kinisi area of Rakhine state in Myanmar, described her amazing experience with the free food-programme run by Bidyanondo Foundation in the Jamtoli Rohingya Camp.
Another five-year-old, Abdul Khalek from Maungdaw's Bolibazar area in Rakhine, said that he liked chicken items and milk most amongst the foods items served by the local voluntary organization, which provides different options to the children in exchange for Tk1 as token payment.
Like Ramija and Khalek, more than 500 kids at the camp – where over 50,000 Rohingyas have lived for the last six months – enjoy different food items every day.
Bidyanondo Foundation's Vice Chairman Faruque Ahmed told the Dhaka Tribune: "When we began serving such kid-friendly foods to the Rohingya children several months back, we used to feed about 13,000 kids every day. Now we provide food to 500 children as the camp has opened some kid-friendly centres and nutrition centres. So far we have provided 1.5 million food packets."
He further said: "Apart from this, we also provided medical facilities to the Rohingya children at the Jamtoli camp but now we are not operating the medical camp due to some complexities. We will resume the service if required."
Since September last year, Bidyanondo Foundation has distributed eggs, fish, vegetables, chicken, milk, noodles, and other snacks amongst the Rohingya children.
Khalil, a Rohingya man who has lived in the camp since August, said that the foundation operates activities for children who live in the remote part of the camp.
Health workers at the camp praised such initiatives of Bidyanondo Foundation. They said the children who suffer from acute malnutrition would be benefited from the foundation's programmes and other organizations should follow its example.
The foundation consists of both native and foreign volunteers who cook food for the Rohingya children at the camp.
"The children enjoy the food very much…they also enjoy our company," said Italy's Giorgio, a foreign volunteer.
Apart from responding to the Rohingya crisis, the foundation also works for the underprivileged children of Bangladesh. The organization is founded by Kishor Kumar Das, a former employee of US-based technology firm Google.
"The Bidyanondo Foundation wants to expand its operations all around the world, with a vision that no child will remain hungry," said vice chairman Faruque.
Launched in 2013, Bidyanondo currently operates in Dhaka, Chittagong, Narayanganj, Cox's Bazar, Rajshahi,Rangpur, Mymensingh, and Rajbari.