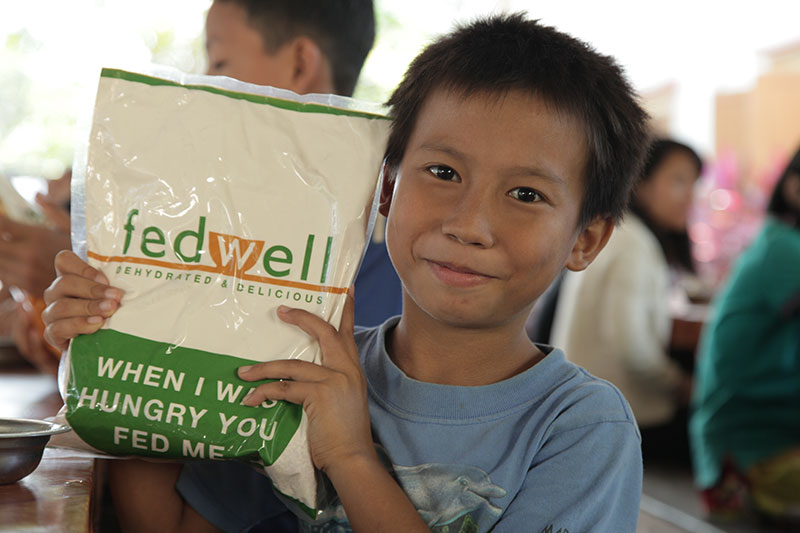 Local Myanmar company Fedwell Foods announced this week that it is partnering with Stand as One Ministry Canada to send over 1 million meals to the people in crisis in Ethiopia, especially children attending schools.
Hunger is having a dramatic impact on young children in particular as many school aged children are dropping out and are at risk of dying of acute malnutrition in this eastern Arican countries.
Fedwell Foods has a motto - When I was hungry you fed me. This attitude of sharing with the poor and orphans is not new to Fedwell. Since 2015 the have served of 2.6 million meals to the people in Myanmar through partnerships with local NGO's, Churches and foreign NGOs. Many meals purchased where donated to the IDP camps in Chin, Rakhine, Katchin, Shan and Mon states.
During the flood crisis last year many where provided with life saving Alpha Nutri soup.
The company says they are proud of their 25 dedicated staff who work hard every day to assemble the Alpha Nutri and Alpha protein soups to feed the hungry.
The company claims the soups are so nutritious they will help to prevent malnutrition and are designed to meet the needs of growth and development. Fedwell Foods company also targets the cause of hunger in rural areas of Myanmar and has developed relationships with hundreds of small holder farmers to grow their healthy foods.
All Fedwell raw materials are grown in Myanmar where they support Good Agriculture Practices (GAP) and sustainable farming methods. Fedwell is partnering with large NGOs in developing agricultural enhancement programmes that introduce new cash crops like millet to the dry zone. They also focus their programmes to target women small holder farmers to grow a variety of crops for Fedwell's future products being developed.
The hunger situation in Ethiopia is critical with an estimated 7.7 million people with no food security.
The National Disaster Risk Management Commission in Ethiopia has reported failed crops in 2017 have affected 5.6 million people in three regions and this is where Fedwell Foods through partnership with Stand as One Ministry will target their support for the relief effort.
Fedwell Foods Country representative pastor Zerihun Degu, general secretary of the inter-religeous council of Ethiopia will partner with the Yehiwot Brehan Church of Ethiopia Development Organization and the Disaster Risk Commission to distribute the life-saving food to the areas in most need. The FDA export approved food will be shipped to Ethiopia to provide life saving relief for thousands of people.