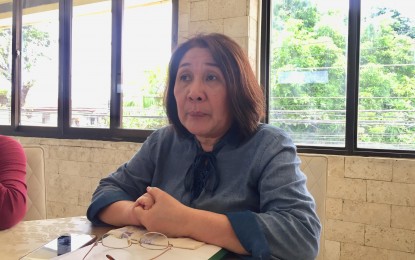 FOOD OPTIONS. As food prices rise, Nona Tad-y, Director of the National Nutrition Council 6 (Western Visayas), encourages the public to take other options so as not to sacrifice nutrition. Some of these options are home gardening and trying root crops, such as sweet potato, as an alternative to rice. (Photo by Cindy Ferrer)
ILOILO CITY. The National Nutrition Council 6 (Western Visayas) is introducing some alternatives to mitigate the impact of the increasing prices of commodities.
In a press conference Friday, NNC-6 Director Nona Tad-y said the prices of prime commodities, especially rice, continue to increase in the region due to the August inflation rate, which accelerated to 6.4 percent.
"This has (an) implication to nutrition. For every increase in the price of rice, there is a corresponding decrease in the consumption of families. So we do not want that to happen because otherwise, there will be food insecurity at home and this will also bring implication to the nutrition security among the family members," she said.
Tad-y, however, said there are alternatives or practical approaches that the public could do to ease the impact of the inflation in nutrition.
First, she said, is through minimizing food wastage.
"We should learn to discipline ourselves and the other members of our family to avoid food wastage. Every grain of rice is very important and very precious," she said.
She also urged the public to look for alternative food other than rice, such as root crops like sweet potato.
"There are alternative sources of carbohydrates and sources of energy that we could eat," she said. "In the absence of rice comes a substitute and it can be form part of our diet. We just need awareness and appreciation of this substitute."
Tad-y also cited home food production or food gardening as an option. "There are a lot of vacant spaces," she noted, saying the public can use these for planting, especially vegetables.
"That is tested and proven and we have been disseminating that even long before," she said.
Tad-y said NNC-6 is strengthening its information campaign to raise public awareness on these alternatives, hoping people would learn and practice these.