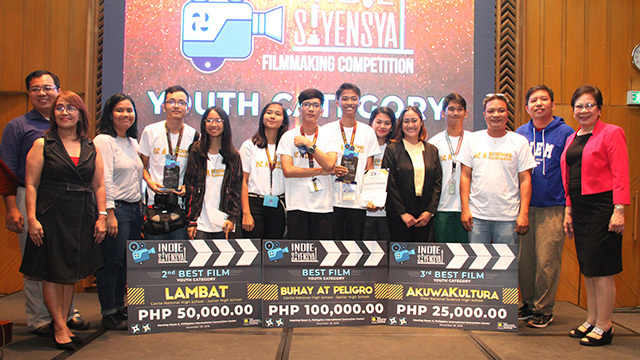 This is a press release from the Department of Science and Technology - Science Education Insitute.
From 300 film concept proposals to 45 film entries, 7 films finally earned the nod of judges and selected viewers in the 3rd Indie-Siyensya Filmmaking Competition.
The Awarding Ceremony, held last November 28 at the Philippine International Convention Center in Pasay City, was attended by more than 100 students, teachers, science professionals, and filmmakers.
The winning films captured the role of science and technology in addressing some of the most pressing national and community issues.
Winners in the Open Category are:
Edward Laurence Opena of Cebu Normal University for Sugbuanong Alibangbang (1st Place)
Brian Sulicipan of Ambag-Ambagan Collective for The Land Will Grow, The Food We'll Eat (2nd Place)
Hector Badis of Cordillera Philippine Council for Agriculture, Aquatic and Natural Resources Research and Development (CorCAARD) for the film Dagem (3rd Place)
Dagem, The Land Will Grow, and The Food We'll Eat tackle agriculture, environment, and food security issues. The former features S&T interventions that help Benguet farmers mitigate climate change hazards in vegetable farm terraces while the latter follows a small research team on permaculture practice in the Philippines. Sugbuanong Alibangbang is a film on the Jumalon Butterfly Sanctuary where the Jumalon family fights butterfly extinction in the province of Cebu.
In the Youth Category, the group of Angelo Cruz from Rizal National Science High School won 3rd place for their film "Akuwakultura" while junior high school students Cyah Angela Somblingo, Johan Villanueva, and Norie Bautista from Cavite National High School students won the second place for their film "Lambat". Akuwakultura shows the importance of aquaculture in Laguna Lake while Lambat documents water pollution in Cavite.
Patrick Pimentel, a senior high school also from Cavite National High School, bagged the top prize for his film "Manglares (Buhay at Peligro)," a film on disaster mitigation.
The winners earned trophies and cash prizes amounting to 100,000 pesos for the Best Film, 50,000 pesos for the second place and 25,000 pesos for the third place.