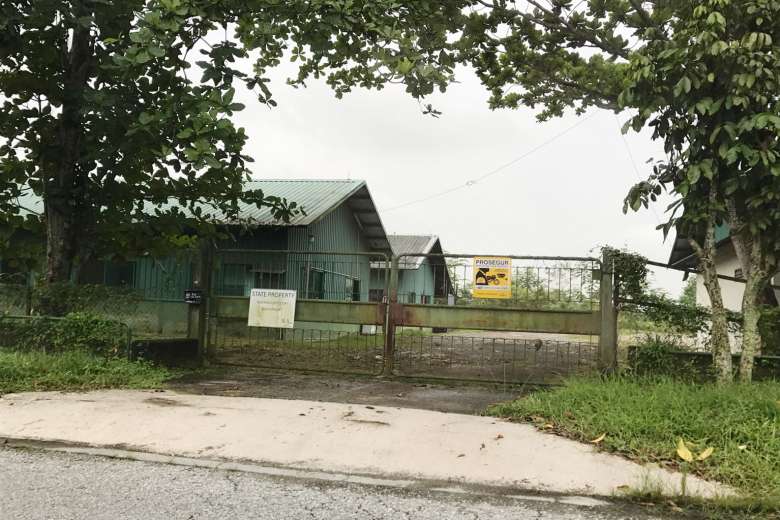 An SLA signboard hanging on the gates of a farm in Lim Chu Kang, stating that the land is now state property. The farm's licence was terminated in July 2015 for unauthorised earthworks.ST PHOTO: AUDREY TAN
Amid the Government's push for farms in land-scarce Singapore to be more productive, eight farms have been penalised in the last four years for repeatedly misusing land for purposes other than agriculture, figures from the authorities show.
The misuses concern the carrying out of various unauthorised activities on farmland, such as subletting space for non-farming activities, or the conversion of space into non-farming uses without approval.
The Agri-Food and Veterinary Authority (AVA) and the Singapore Land Authority (SLA) told The Straits Times: "Enforcement actions such as warning letters and composition fines were taken against these farms. When the lease/tenancy of the six farms expired in end-2014, AVA terminated their farm licences; and SLA did not renew their lease/tenancy."
On top of the six which did not have their leases renewed when they expired, two fish farms - one in Lim Chu Kang and the other in Pasir Ris - had their leases terminated for unauthorised earthworks. ST understands that this means the farmers had brought in large amounts of soil onto the farmland.
The lease for one of the two fish farms, at 40, Lim Chu Kang Lane 5, was terminated in July 2015. During a visit to the site in May, ST saw an SLA signboard hanging on the gates, stating that the land is now state property.
The lease for the Pasir Ris fish farm was terminated in 2013.
AVA said the licences of both farms were also terminated.
An AVA spokesman said its officers conduct regular inspections to ensure compliance with its regulatory and licensing conditions. Those who do not comply may receive warning letters or be fined.
Farmland must predominantly be used for agricultural production, she said, adding: "For new farmland, farmers are allowed to develop visitor amenities, such as cafes and farm education centres, if they are kept within 10 per cent of the land area, subject to planning approval.
"Farms must also rectify any non-compliances. If the farms are recalcitrant offenders and the non-compliances are severe, AVA may suspend their licences. The leases of such farms may also not be renewed."
Currently, less than 1 per cent of land here is marked for farm use.
The local agriculture sector also produces less than 10 per cent of total food supply, but is still considered vital for food security, serving as a buffer in case of food supply shocks.
As of May, there were 358 licensed farms here, of which 212 were food farms. Despite its importance though, farmland in Singapore is still shrinking.
Come end-2021, the leases of 62 farms in Lim Chu Kang will run out and the land will be used by the military.
From next month onwards, AVA will be tendering out 36 new plots of farmland in Lim Chu Kang and Sungei Tengah spanning 60ha of land - the equivalent of 60 football fields - but the new plots will not offset the loss in farmland in end-2021.
The Government hopes to step up Singapore's food security within the constraints of limited land by encouraging the use of high-technology farming in the new plots to boost productivity and yield.
AVA had said earlier that experienced farmers with good track records and who are willing to adopt high-tech farming methods will stand a good chance of winning the bids.
Ms Chelsea Wan, 33, from the Jurong Frog Farm in the Lim Chu Kang area, said it was encouraging that the authorities were taking action against errant farmers.
She said: "Farmers are custodians of the land, and if the land is being abused and not used for production, it is good that the authorities are weeding them out.
"If not, they may give legitimate farmers a bad name."