Back to basics.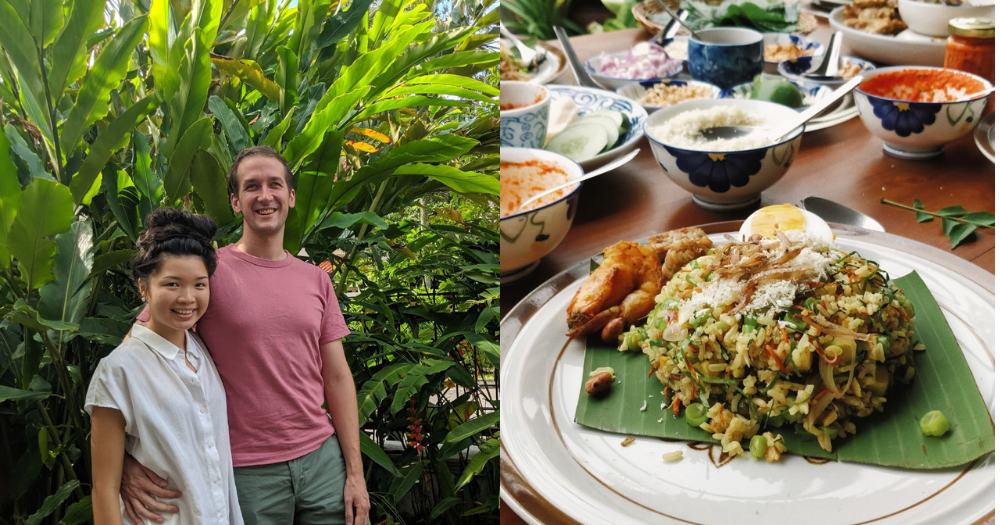 A bowl of ice cold gula melaka sago dessert was all I needed after back-to-back interviews on a sweltering hot Tuesday afternoon.
This particular dessert that I scoffed down in seconds was especially impressive because the pandan leaves were freshly picked from the humble yet diverse home garden of 27-year-old Justine Ong-Farmer and her husband, 31-year-old Scott Farmer.
(Yup, their last names are "Farmer".)
Working out of the front yard
In November 2018, the couple started a small urban agriculture business, aptly called The Farmers, right in their own front yard.
They started this venture in a bid to introduce local herbs and encourage Singaporeans to grow their own food.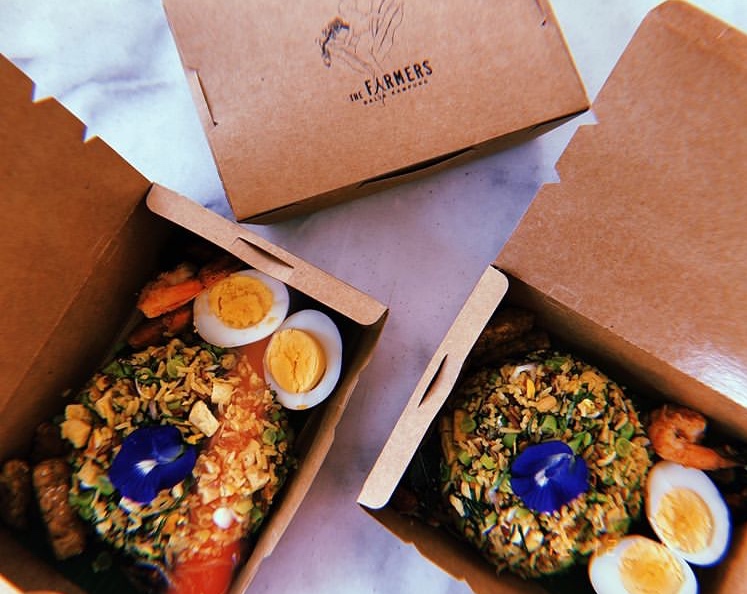 Nasi ulam, a dish made with some of herbs and vegetables freshly picked from their backyard. Photo courtesy of The Farmers
But why would two young people want to introduce such a concept in such a fast-paced country like Singapore?
To (hopefully) bridge the disconnect between where food is grown and where it is consumed, we were told.
Traveled for nine months
Scott and Justine's love for gardening sprouted when they were traveling overseas last year.
Both of them quit their old jobs in February 2018 and embarked on a nine-month trip the following month to 16 different countries including Spain, Cyprus, Morocco, and the U.S.
In their travels, they noticed how common it was for people to have their own little gardens, where they would grow their own vegetables and herb.
"The food tasted fresh and different from what we have in Singapore," said Scott.
But it wasn't just the freshness that they were intrigued by, it was also the fact that gardening made people closer to one another.
"We noticed how gardens became where people met up with one another and we wanted that back at home too."
Alternate income stream
While it doesn't make much (yet), the Farmers' do generate some income from this project by occasionally selling their produce like dried flower tea and kaffir limes at the farmers' markets at Emily Hill or Dempsey Village.
This, of course, is heavily dependent on how much crop they can harvest during that period.
Apart from the occasional farmers' market, they also used to do lunch drops of their homemade nasi ulam (herb salad rice) to nearby offices.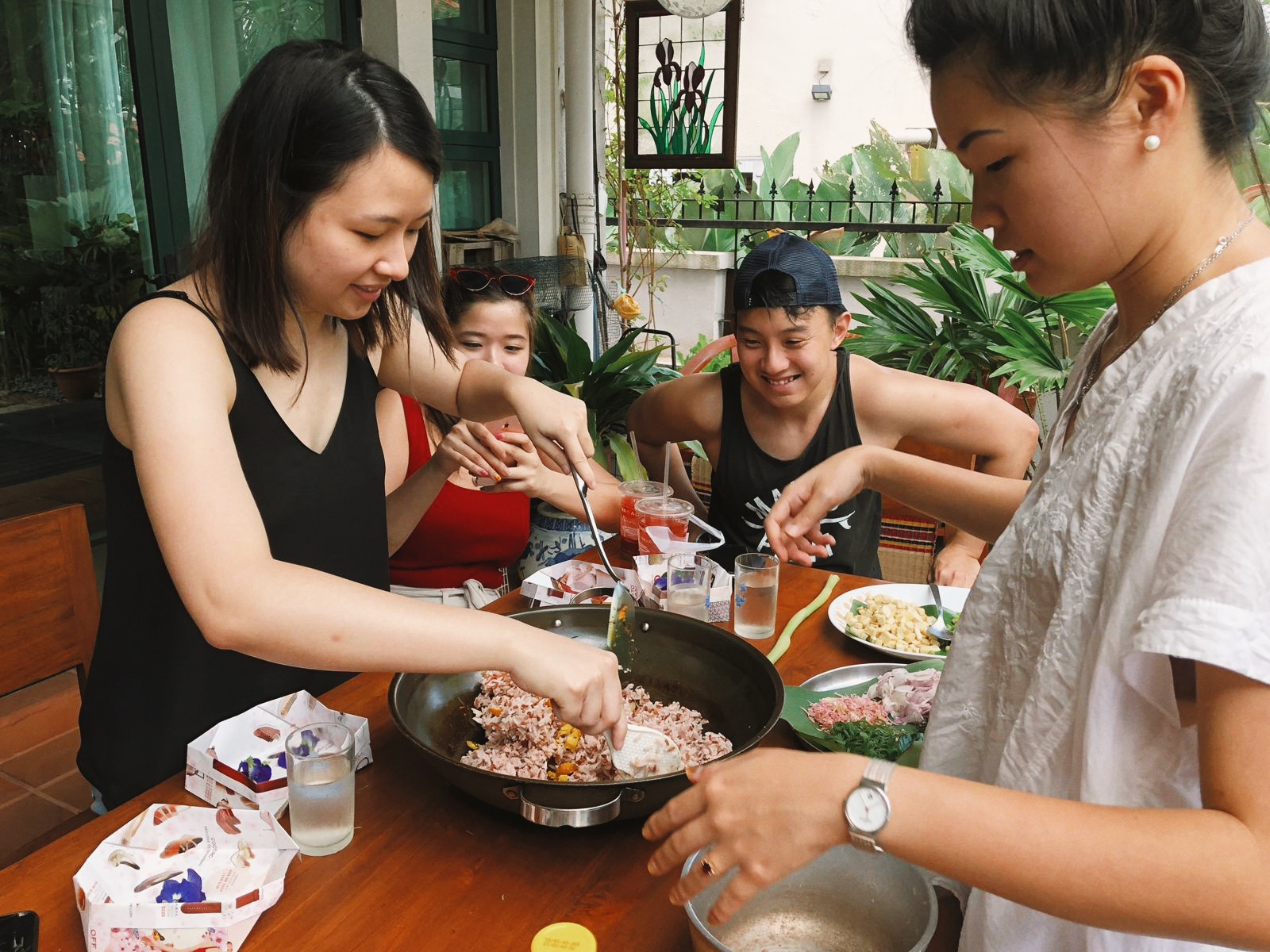 Photo courtesy of The Farmers.
Once a month, they hold two-hour workshops at S$80 per pax.
Participants can go back to basics by discovering local herbs, making their own chilli chukka (chili vinegar) and have a meal of nasi ulam along with it.
These workshops, however, have a smaller crowd since it is held in their own front yard, after all.
No agricultural background
While Scott went on to get another job in a law firm after starting the project, Justine decided to devote her fullest attention to their agricultural passion project.
With over three years of experience in the fashion industry and no background in agriculture, this was a bold move for Justine.
However, venturing into a path less trodden wasn't something new to her.
In fact, Justine and everyone else around her knew that she was going to take this new venture head-on.
"My background was in fashion and it already was considered an unconventional route. People around me would know that my next project would be just as 'weird'."
No-frills lifestyle
And while some might worry about the cut in earnings, Scott jokingly shared that it's a good thing that they both are "very cheap people".
Justine also added that living frugally is just one of The Farmer's purposes:
"There was definitely a difference in earning for me, from something to almost nothing, in fact. But it helps that we save quite a bit and reinforce our intention that there's always ways to repurpose things in the garden."
The Farmers' garden mostly has local crops like a soursop tree, a handful of butterfly pea flowers, and recently, they have been trying their hand on non-indigenous plants like tomatoes and roselle.
Snails are enemies
But starting this venture hasn't always been smooth sailing.
Since both of them had no experience with gardening at all, they had to go through various rounds of trial-and-error and committed several rookie mistakes.
For one, they learned the hard way that cute snails turn out to be a gardener's worst enemies:
"We try not to use any chemicals or pesticides so we didn't know that snails were going to be such a big issue, eating all of our crops. We also learned that we had to be more diligent with soil mix because we were lazy at first and would use a random mix of soils."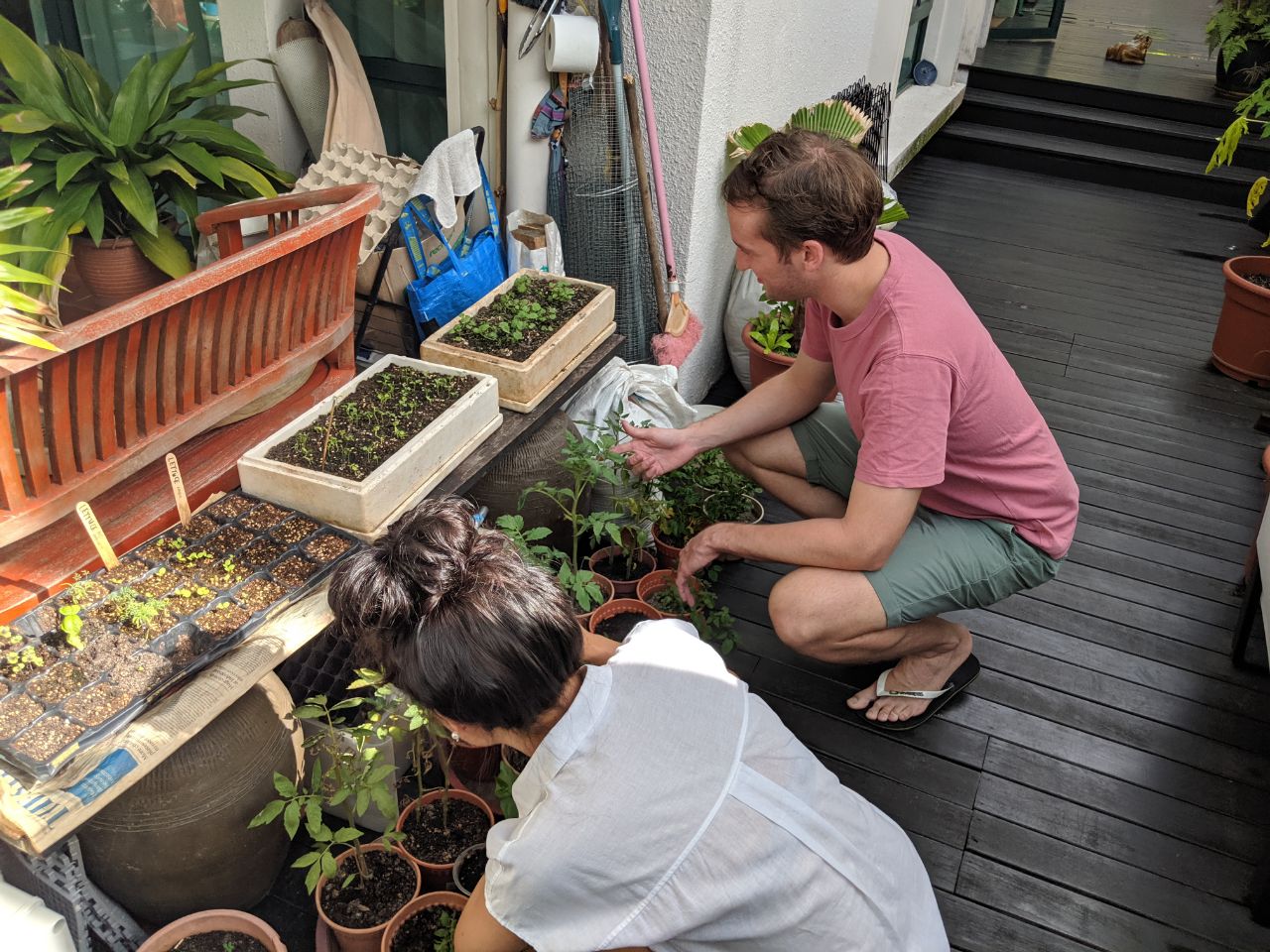 Photo by Fasiha Nazren
Thankfully for them, they have supportive communities they can learn from including, the people they have met at farmers' markets and online resources.
Bridging gaps with neighbors
Prior to starting The Farmers, Justine and Scott barely interacted with their neighbors.
But a garden in their front yard, the couple noticed that people were stopping by their house to see their crops and exchange tips with one another.
Now, however, their garden is the talking point of their neighborhood where they exchange tips with other residents.
For instance, an elderly neighbor actually brought them to her house — which was 15 minutes away from theirs — and showed them around her garden.
She also gifted them with seedlings and a fruit they didn't know had existed before, the balonglong.
Justine shared:
"Before that, we didn't even know what was a balonglong. I grew up here, but I didn't know a lot of my neighbors. Now, I've spoken to more of my neighbors than I did in twenty over years."
Making it a lifestyle
The Farmers had to (and still are) finding new ways to find their purpose in the urban farming community, from selling produce like dried flower tea and nasi ulam at farmers' markets to conducting their own workshops.
As they are only eight months into this project, The Farmers are still finding their groove.
While others may have given up by now, the couple remains optimistic and has high hopes for this venture.
Justine shared:
"It's important to remain positive. If we plant 20 seeds and only three grows, then that's great, it's already a success. Every plant has different characteristics and we're always learning new things."
Besides, this is more than just a business to them.
To them, having their own home garden and using their own produce is already part of their lifestyle, and they hope others can incorporate it into their lives too.
"We hope to integrate it into our lifestyle, especially when we choose to have kids later. It is something that has and will continue to enrich our lives."