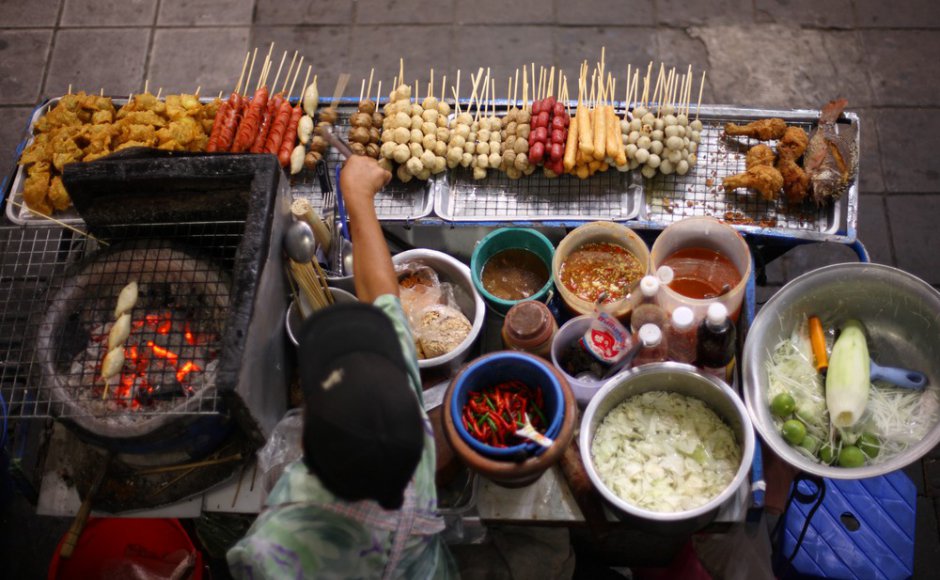 A street vendor in Bangkok, Thailand. Source: David Kucera/Shutterstock
Asia is home to nearly two-thirds of the world's malnourished. But it's not the booming elderly population feeling the pinch. It's not the rapidly expanding middle class.
In this fractured world we live in (the words of Klaus Schwab at the World Economic Forum last month, in reference to both geopolitical fault lines and the stresses building up within societies and communities), it is Asia's children who are falling through the cracks.
Good quality nutrition is a basic human right but across Southeast Asia alone an estimated 60 million children under the age of five are stunted. One in five children in India are wasted and in Indonesia, one of the world's fastest-growing countries, approximately one in ten children are either wasted or overweight. We call these polarised – yet equally dangerous – outcomes the double burden of malnutrition.
The causes of obesity and undernutrition are inherently intertwined. A child whose growth was stunted in early childhood is also at greater risk of becoming overweight later in life. Meanwhile continuing income growth in Asia is, inadvertently, fuelling this two-sided problem, driving changing patterns of food consumption which are creating unintended effects on nutrition and health.
If left unmanaged, the adverse effects of Asia's vast serving of malnourishment will not only be felt by individuals, but also by whole economies as healthcare budgets, labor productivity and economic activity are impacted.
So, the key ingredient to building a healthier, nourished and more sustainable Asia? It's in many ways very simple, yet also riddled with complexity: partnership.
Getting the right people to sit at the table: cross-sector collaboration
As world leaders, businesses and NGOs gathered in Davos last month to discuss the need for greater co-design, co-creation, and collaboration to create a shared future in our fractured world, the seeds of new conversations were also taking root in Singapore. At a DSM-hosted workshop, SEAChange, government representatives, industry professionals, academia and civil society from around the region came together with one shared goal. To catalyze multi-sector nutrition improvement efforts that will have the stamina and scalability to truly address the nutritional challenges faces in our region.
From Danone, Olam, Unilever, and GSK, to DBS, Tata Trusts, CNRC, World Vision, Save the Children and the World Food Programme, conversations were infused with a sense of the need for more local, real, partnerships driven by relevant innovation and a path to true adoption. Namely, bringing affordable, accessible and nutritious food to low to middle-income consumers in the region where the need is greatest, via sustainable business models.
Yes, there should be profits too – that's how we will find real, long-lasting solutions to fight this war on malnutrition. Policy actions taken in isolation are unlikely to achieve either better population health or economic growth and development, especially against Asia's backdrop of huge disparities in wealth and development.
Better collaboration between the public and private sectors will also help to bridge the information gap, addressing a lack of the right information around adolescent dietary health.
A new model for partnerships: the way forward in 2018
The discussion took various meanders, but there was a sense of universal agreement that the road ahead in 2018 must be framed by developing a new model for partnerships – one that eliminates current barriers to success and prevents new ones from surfacing:
De-institutionalize partnerships: In a culture of speed, time is of the essence and successful collaborations need to be flexible and responsive enough to adapt with market changes and deliver, even against changing requirements. We should not have to stick by the traditional rules of long-term MOUs. This is not to say there's no place for long-term partnerships, but their setup needs to evolve with the industry they serve and be more flexible – formed around shared values, not rigid KPIs and immovable goal posts. Meanwhile, the addition of supplementary shorter-term partnerships will add a new depth of flavor to the dish!
Put the consumer first: We talk endlessly about consumer choice in most walks of twenty-first-century life, but often forget that those in low to middle-income groups are also consumers! They want to make their own purchasing decisions as much as the rest of us, taking control of their ability to be stronger and healthier. They don't just want to be "rescued". Social safety nets, while still of huge importance for those at the bottom of the pyramid, are not the only If we create commercially-viable nutritious, affordable and relevant products – that speak directly to Asia's many unique consumptions and purchasing needs and preferences – and pair them with better education on nutrition, we will empower this (more than willing) group of consumers to make the right nutritious and sustainable choices on their own.
Add variety to the menu: We also need a more holistic approach when developing nutrition solutions. Partnerships shouldn't focus on a single product in isolation. In fact, many past initiatives have failed to take off because a single-solution approach has ended up insufficient to bear the full weight of the problem. Cross-sector collaboration in 2018 will see a variety of products and interventions addressing the same nutritional need. If they all work, great – even more choice for consumers and beneficiaries.

Feeding a future worth sharing

No other area of development can have as wide and deep an impact on society as nutrition.

For those children who slip through the cracks of national welfare schemes, it is their daily food intake which is their next best line of defense. Making nutritious products affordable, accessible and appealing is not an optional side order; it's the main course and a matter of life and death for many.

Bringing together a functioning, productive ecosystem of multi-sector players to achieve a sustainable and well-nourished future for all won't be easy. But it's achievable with a big enough dose of collaboration.