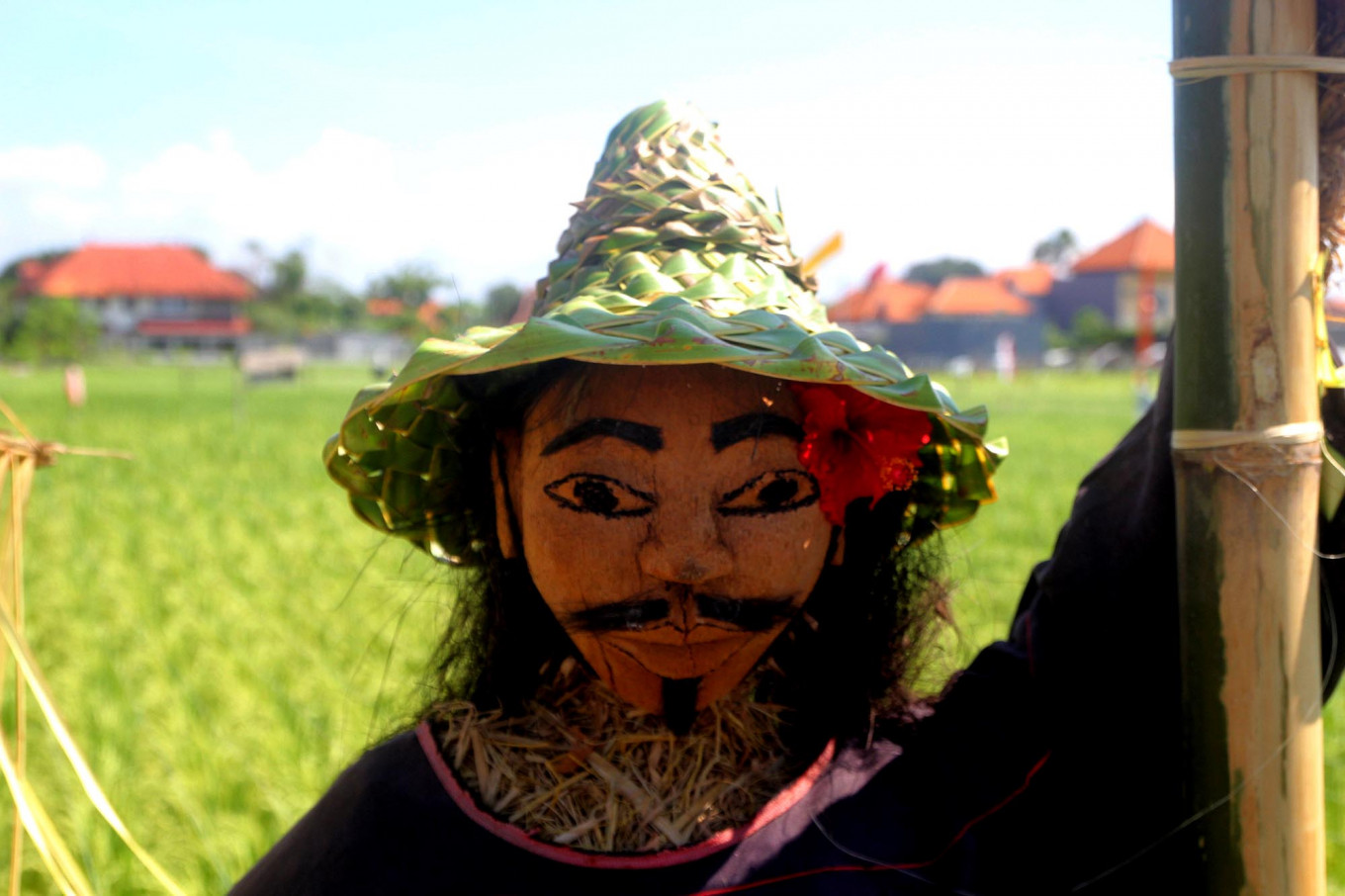 Farmers put a straw hat on top of a scarecrow. Three agritech startups involved in helping farmers, Eragano, Sayurbox and Tanihub, have been selected to take part in Grab's second Grab Ventures Velocity accelerator program. (JP/Zul Trio Anggono)
Singapore-based Grab has recently selected 10 early-stage start-ups to join its second Grab Ventures Velocity accelerator program, which focuses on companies that either help micro, small and medium enterprises (MSMEs) or farmers in Southeast Asia.
The start-ups, which are involved in the empowerment of MSMEs, include MyCash Online, PergiUmroh, Porter, Qoala and Tamasia while the remaining five, Treedots, GLife, Eragano, Sayurbox and Tanihub are part of the emerging agriculture technology (agritech) industry that focuses on farmers.
Three of the five agritech start-ups, Eragano, Sayurbox, and Tanihub, are Indonesian companies while the remaining two are Singaporean.
The 16-week program, which is part of Grab's Rp 3 trillion (US$212 million) investment in Indonesia, will provide training for the businesses to enable them to benefit from the ride-hailing company's ecosystem. If the start-ups perform well, Grab, a company valued at over $10 billion, will either invest in or partner with them.
The ride-hailing giant's focus on agritech indicates investor readiness to finance the industry beyond early-stage funding. In fact, TaniHub announced in June that investors had injected $10 million in Series A funds.
Indonesia's agritech scene emerged in 2015 when some of today's notable players such as TaniHub, Sayurbox, LimaKilo, Eragano, Crowde, and iGrow were founded.
The former three start-ups are farm-to-table e-marketplaces, which allow buyers to buy fresh produce directly from farmers, while the latter two are peer-to-peer (P2P) lending platforms, which allow farmers to secure capital.
Eragano is more comprehensive in its offering. Founder Stephanie Jesselyn told The Jakarta Post that her company provided a farm-to-table e-marketplace, lending services and a store for farming necessities such as fertilizer and seeds.
The head of Grab ventures, Chris Yeo, told reporters in Jakarta on June 17 that the company chose the agritech industry because it saw huge market potential in upgrading Southeast Asia's agricultural sector, particularly that of Indonesia.
"These startups are already serving 30,000 farmers," said Yeo, "It's a very good starting point but we think there's so much more potential. Just look at the numbers, there are 35 million farmers in Indonesia alone."
His statement captured the prevailing optimism of the agritech industry even though the local market is riddled with challenges such as poor infrastructure and digital literacy.
Last year's world's logistics performance index ranked Indonesia 46th out of 160 countries, lower than neighboring Thailand ( 32nd ), Vietnam ( 39th ) and Malaysia ( 41st ). As such, most of Indonesia's agritech operations are centered in Java, which enjoys the best infrastructure including roads, railways, and internet connectivity.
Meanwhile, the Communications and Information Ministry recorded only 9 percent of small entrepreneurs were capable of using e-commerce platforms, including farm-to-table online markets.
TaniHub cofounder Eka Pramita said his company's partnership with Grab was one solution to overcome both problems. The e-marketplace aims to capture as new customers all of Grab's food merchants, who would have the necessary logistical channels and literacy to take advantage of e-commerce.
According to a recent survey by research company Tenggara Strategics, Grab registered at least 218,000 food merchants in Jakarta, Bandung, Surabaya, Makassar and Medan last year.
"As a company, we are very new," said Eka, recollecting how he convinced investors to inject $10 million into his company. "We couldn't sell much on the company [in terms of traction] but we can sell a lot on the potential. Indonesia alone imports $15 billion of fresh produce to meet demand."
In terms of the local regulatory environment, Eka said agritech P2P lenders – including TaniHub's lending service TaniFund – are subject to Financial Services Authority (OJK) Regulation No. 77/2016 on such lenders and to the code of conduct of the Indonesia Fintech Lenders Association (AFPI).
Crowde, which disbursed Rp 51 billion in loans last year, registered with the OJK in April 2018 while iGrow, which has disbursed a more modest Rp 80 billion since 2014, registered with the government body in September 2017.
Eka added that while no government body had issued a specific regulation for other types of agritech companies, the Trade Ministry and Agriculture Ministry indirectly oversee them through policies related to fresh produce supplies.
He explained that whenever the Trade Ministry relaxed import regulations on certain fresh produce, it would reduce local production of similar produce and thus disrupt e-marketplace supply chains.
The Agriculture Ministry created similar disruption whenever it introduced incentives such as subsidized seeds and fertilizer for farmers in growing certain crops over others.
While the Agriculture Ministry does not have a program that exclusively supports agritech startups, ministry spokesman Kuntoro Boga Andri said the ministry was ready to help such companies by providing agriculture production-related information and easing licensing processes.
"If they export and import fresh produce, they would need a license from us. We can simplify the licensing process. Especially if they are exporting produce," he said.