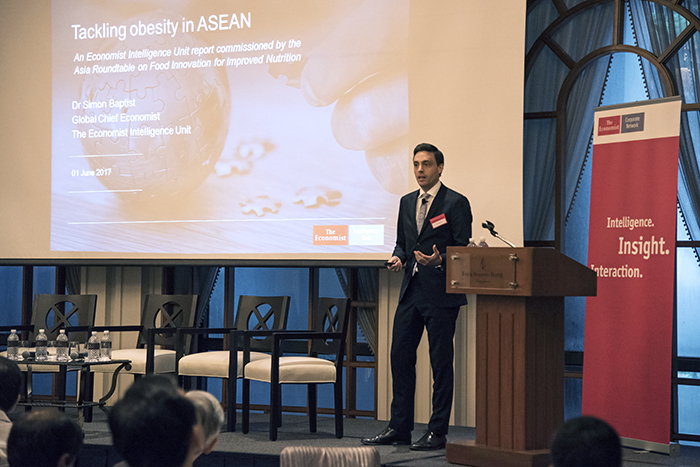 Dr Simon Baptist, the Economist Intelligence Unit's (EIU) Global Chief Economist and Managing Director of the organisation's Asia consultancy arm, presents report findings during a launch event in Singapore on 1 June.
Obesity prevalence increased by 28 per cent on average in the ASEAN-6 in a four-year period under review, according to a report on obesity released by the Economist Intelligence Unit (EIU).

Commissioned by the Asia Roundtable on Food Innovation for Improved Nutrition (ARoFIIN) and produced by the Economist Intelligence Unit (EIU), the report is the first to carry out a detailed analysis on the economic impact of obesity in the Association of Southeast Asian Nations (ASEAN). Entitled "Tackling obesity in ASEAN: Prevalence, impact, and guidance on interventions", the report cites evidence to show that the incidence of obesity and overweight is increasing rapidly in Southeast Asia.

According to the report, Indonesia saw the highest percentage-increase of obesity in adults (33 per cent) across the four-year period between 2010 and 2014, while Malaysia recorded a 27 per cent-increase and the Philippines a 24 per cent-increase.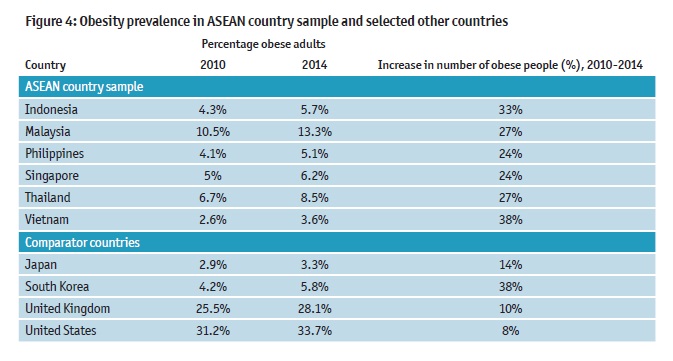 Image Credit: EIU
The report shows that the obesity prevalence rate in Indonesia and Vietnam has grown more than three times as fast as those in the UK and USA, and that over the last three decades, global obesity prevalence has more than doubled – there are now more overweight children in low and middle-income countries (LMICs) than in high-income countries.

Today, with between 20 to 35 per cent of adults overweight, obesity is reducing productive (working) life by an average of four to nine years across ASEAN, while the total (direct and indirect) costs of obesity can amount to as much as US$10billion in Southeast Asia, according to the report.

Among the six countries sampled, Indonesia and Malaysia experienced the highest overall costs of obesity in 2016, equivalent to between 8-16 per cent and 10-19 per cent of national healthcare spending, or between US$2-4billion and US$1-2billion respectively, in absolute terms. Singapore incurs the third highest costs (direct and indirect costs arising from obesity), equivalent to between 3-10 per cent of national healthcare spending, or between US$0.4-1billion.

"The current prevalence of obesity in many ASEAN countries is low by global standards—although with some exceptions for childhood obesity—but the rate is rising fast and the large populations of some countries indicate that they have some of the largest numbers of overweight and obese people", says Dr Simon Baptist, the EIU's Global Chief Economist and Managing Director of the organisation's Asia consultancy arm.

According to the EIU study, several factors were identified as drivers of obesity, including rising incomes, urbanisation and the forces of globalisation. The report shows that obesity rates vary widely, depending on ethnic, genetic, regional and economic differences, which underscores the need for carefully tailored obesity prevention strategies, rather than a one-size-fits-all approach.

"Data on obesity prevalence in the region is uneven and often absent across the ASEAN region. This constrains policy-making, which can in turn lead to certain untargeted programmes or interventions. This study is the first time such a detailed analysis on the impact of obesity has been carried out. We hope it will help deepen the understanding of Southeast Asia's obesity threat," Dr Baptist said.

He added, "This report aims to be a guide for policymakers, health organisations and the industry as they tackle the rising threat of obesity in the region together. Tackling obesity can help to free up resources in national healthcare systems and channel them to other areas that deserve attention."