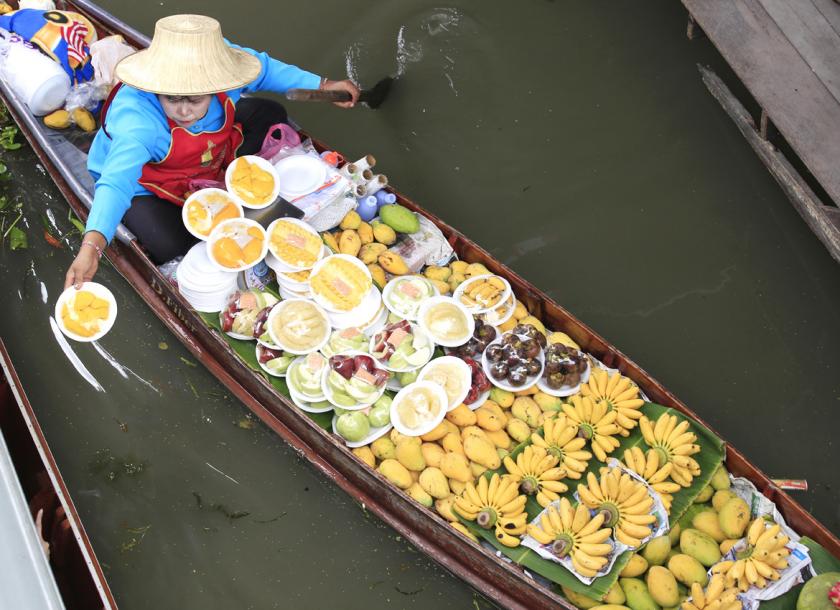 A woman offers fresh fruit for sale to tourists at Damnoen Saduak floating market in Ratchaburi province, Thailand, in 2015. Photo - EPA
We all know that maintaining a balanced diet is important for our well-being. After all, getting enough nutrients is what keeps us healthy and active. However, as we also know, many people are not eating the right foods. For many, it's simply a decision to stick with foods they enjoy but aren't healthy.
This is leading to an increase in heart attacks, strokes, cancer, and diabetes, which are major burdens on our health care system and have the potential to derail the economic progress that is essential for the poor to improve their lives. For others, it's about limited access to nutritious food or simply a lack of money, leading to monotonous diets that do not provide enough nutrition for them to develop both physically and mentally and lead full, productive lives.
Healthy foods are out there, but for both rich and poor it seems that nutrition is under threat. One reason is that our food systems are not properly responding to nutritional needs.
Fortunately, there is now a major international effort to improve global food systems and link those improvements to better nutrition and diets. Late last year in Rome, the Food and Agriculture Organization (FAO) of the United Nations and the World Health Organization (WHO), convened an international symposium on sustainable food systems for healthy diets and improved nutrition as a follow up to the Second International Conference on Nutrition in 2014.
While these big conferences might seem far removed from the realities faced by food producers and the millions of farmers, fishers, supply chains and processors, they are placing nutrition front and center of the debate on improving our food systems. Improving nutrition and diet is a personal responsibility, but it also begins at the desk of the policy-maker and at the sharp end of a pitchfork.
Indeed, the vast majority of the food we eat is produced by smallholder farmers, many of whom are poor and undernourished themselves. Improvements to food systems must be achieved in ways that benefit a smallholder's livelihood and nutritional needs. The Sustainable Development Goals have an explicit target that recognizes that smallholders provide a critical entry point for building dynamic rural economies.
There are nearly half-a-billion undernourished people in our region. Roughly one in every four children is stunted, while in some countries obesity is becoming a serious concern. Diets are changing, but not always for the better – and that's a big worry. Bringing together the key players in the food system makes sense because the policymakers who can push forward the nutrition agenda need to hear what works and what doesn't from the people who grow our food and those who transport, process, market and sell it.
This weekend in Bangkok, the FAO and other UN agencies are bringing together experts on nutrition and food systems from across the region.
The Asia-Pacific Symposium on Sustainable Food Systems for Healthy Diets and Improved Nutrition on November 10-11 will be honored by the participation of the UN FAO Special Ambassador for Zero Hunger, Her Royal Highness Princess Maha Chakri Sirindhorn of Thailand. FAO will also present its report: 2017 Asia and the Pacific State of Food Security and Nutrition.
We must work together to equip our food systems to produce and deliver more nutritious food. The United Nations Sustainable Development goal to achieve zero hunger and end malnutrition by 2030 can only be reached if we start working together with a common purpose.