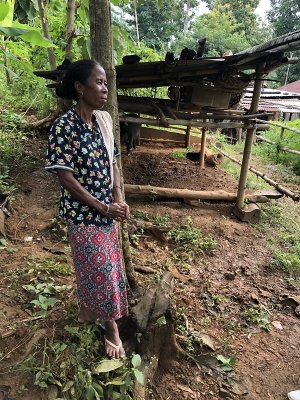 The lifeblood of Timor-Leste's agricultural sector – smallholder farming – is to be bolstered by collaborative University of Queensland-led research.
The project will evaluate livestock development initiatives, foster international trade and look at new opportunities for the 87.2 percent of households in Timor-Leste that keep livestock.
Project leader Dr Dominic Smith from UQ's School of Agriculture and Food Sciences said focusing on smallholders will have extremely positive impacts on livelihoods.
"Livestock are kept by the vast majority of households in Timor-Leste and are important not only for income but for household nutrition, savings, and cultural practices," he said.
"For example, while there is not a large domestic market for pork, pigs are kept by around 146,000 households, predominantly for consumption during cultural ceremonies and can also be sold during times of financial stress."
The researchers will interview farmers and other stakeholders in Maliana and Baucau municipalities, collecting information on livestock and overall livelihoods.
Collaborator Dr Tarni Cooper said understanding on-the-ground realities was crucial for effectively evaluating previous and proposed livestock development initiatives.
"Livestock programs never occur in a vacuum," she said."For example, in Timor-Leste, nutrition security is an ongoing concern; the prevalence of childhood stunting is around 50 percent.
"A holistic approach is needed, ensuring that future development of the livestock sector translates to improved household nutrition."
As well as analyzing domestic markets, the researchers will visit the neighboring province of Nusa Tengara Timur in Indonesia and consult with Australia's Department of Agriculture and Water Resources and Department of Foreign Affairs and Trade, focusing on how to improve livestock trade between Indonesia and Timor-Leste.
Dr Smith said these connections were critical for boosting the end-value of smallholder livestock farming in the region.
"The governments of Timor-Leste and Indonesia have both expressed their commitment to greater cross-border cooperation and increased trade," he said.
"Increased trade with Indonesia and greater cross-border cooperation support Timor-Leste's goals while moving toward the country's aspiration to achieve ASEAN membership.
"There's a strong case to be made to help develop these markets, creating sustainable livelihood improvements for smallholders, improving women's economic empowerment and supporting health and nutrition in the region."
The project was funded by the Australian Centre for International Agricultural Research in partnership with the Ministry of Agriculture and Fisheries Timor-Leste.