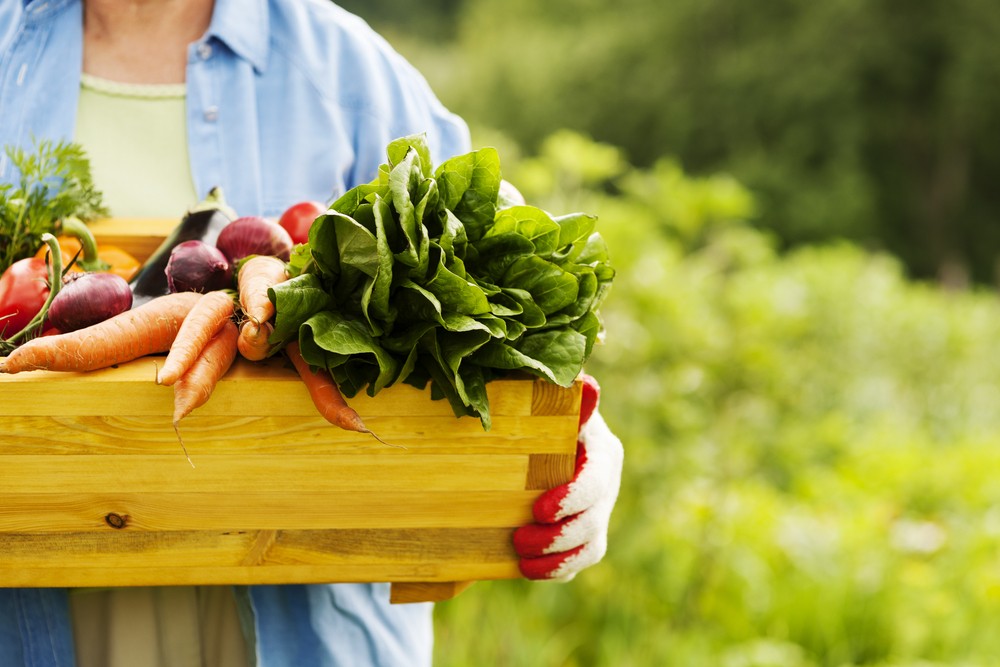 Organic food refers to vegetables, fruits, grains, dairy and meat products that was practically processed and grown by using non-conventional methods in order to boost soil and water conservation, ecological balance and reduce pollution. (Shutterstock/-)
Does organic farming have a future in Indonesia? In many developing countries, organic agriculture is still met with skepticism. Critics argue that it is inefficient, requiring more land than conventional agriculture to yield the same amount of food.
As result prices are higher. If people cannot afford regular food, how would they be able to pay for organic food?
Proponents of organic agriculture are even compared to the last Queen of France before the French Revolution, Marie Antoinette, who famously uttered, "If they can't afford to buy bread then why don't they just eat cake". However, experience from Denmark and other countries show that there are real economic, social and health benefits to organic and sustainable farming, including in Indonesia.
Despite lower yields, organic farming is more profitable for farmers than conventional agriculture because consumers are willing to pay more. This has to do with the perceived health benefits where organic farming delivers equally or more nutritious food and contain fewer pesticides.
Consumers are also attracted to the sustainability of organic farming, which combines good environmental practices with a focus on preserving natural resources, increasing biodiversity and the application of high animal welfare standards. Moreover, organic farming provides rural employment opportunities and opens profitable markets in other countries for farmers in developing countries. Given the right market links and assistance in certification, this could also involve thousands of smallholder farmers.
According to the International Center for Research in Organic Food Systems, the demand for organic products in high-value food markets in Europe and North America has increased by up to 25 percent per year and is the highest growing food market segment with increased import from developing countries. Demand from consumers in middle-income countries, such as Indonesia, is also increasing.
Consequently, the global organic food market is projected to reach a value of more than US$300 billion by 2024. Organic farming is both good for business and good for the environment.
Indonesia has already set its eyes on sustainable agriculture and Denmark is ready to support the efforts of the Indonesian government in further developing organic farming. Denmark was the first country to introduce rules for organic production, to develop national standards and to launch an organic label.
These ambitious policies have resulted in Denmark is the country in the world where organic food has the highest market share with 8 out of 10 Danes buying organic products on a regular basis. Denmark also imports significant quantities of organic food, including coffee, tea, and chocolate, fruit and vegetables.
While there is growth in all organic product categories in Denmark, organic milk accounts for one of the largest market shares at 33 percent. This can partly be attributed to the world-leading Danish dairy industry.
In Denmark, there are more than 70.000 organic dairy cows and organic milk production has increased to half a million tons per year. This makes Denmark among Europe's top-four producers despite being a smaller country. Health-conscious consumers have also driven the rise in the popularity of organic milk in Denmark; parents would like to ensure their infants and toddlers consume milk and other dairy products free of contaminants and additives, such as antibiotics, hormones or pesticides.
As part of our new government-to-government cooperation on agriculture with Indonesia, Denmark is happy to share its hard-earned knowledge on how to foster the best environment for organic food production, including certification and labeling. To the benefit of consumers and producers. Denmark has experienced tremendous success in preparing the grounds for farmers to develop a new market, to make organic products affordable and available to the entire population.
As consumers in both Indonesia and Denmark become more concerned with purchasing sustainably produced food, a road is set for an organic adventure in Indonesia's agricultural sector.