With the COVID-19 pandemic having made a significant impact on the nation and the globe, the need to further advance the developments made in agriculture and aquaculture has continued to increase as the pandemic has highlighted the importance of food security.
Ever since the first case of COVID-19 came into the nation, the agriculture and aquaculture sectors have been developed to ensure food security of the nation is met.
One example is the increasing reliance on locally grown paddy. To achieve this, a large number of Sembada 188 seedlings were acquired to meet national demand.
The increase was the result of the seedling being planted in 2019 by His Majesty Sultan Haji Hassanal Bolkiah Mu'izzaddin Waddaulah ibni Al-Marhum Sultan Haji Omar 'Ali Saifuddien Sa'adul Khairi Waddien, Sultan and Yang Di-Pertuan of Brunei Darussalam, as part of the official start of a commercial rice farm in the Agricultural Development Area (KKP) Kandol in Belait District.
The 500-hectare commercial paddy plantation is operated by Paddy Co Sdn Bhd through Darussalam Assets Sdn Bhd with an aim to tackle the challenge of food security.
Since its planting and harvest in 2019 and 2020, the plantation has brought steady development to the area.
With the successful harvest from the first two seasons, the plantation was in the middle of its third season last January. It is estimated to produce around 6,000 to 8,000 metric tonnes of paddy, an equivalent of 11 per cent to 15 per cent of the nation's paddy supply.
During the height of the COVID-19 outbreak, another challenge that was faced by the nation was locally sourced meat; 2020 showed that the supply of meat was inadequate.
With this in mind, developments have been made to the KKP Merangking where Golden Chick Hatchery & Breeding Farm is set to house 12 hatcheries, which are projected to have a capacity of nearly 7,700 chickens, across 20 hectares of land.
Other developments made to the KKP include the underground water well Project, led by Preston Geochem (B) Sdn Bhd with initial works having run from June to September 2020, with the official launch in October by Minister of Primary Resources and Tourism Dato Seri Setia Awang Haji Ali bin Apong.
The 80-metre deep well has been operating since its launch, aimed at providing constant supply of water for the irrigation system at the paddy plantation.
The current paddy plantation is operated by the Mukim Labi Consultative Council (MPM Labi). It has since used 45 hectares of its allocated 300 hectares to plant a variety of paddy seedlings that include pusu, bario, and adan as well as modern paddy varieties such as BDR5 and MRQ76.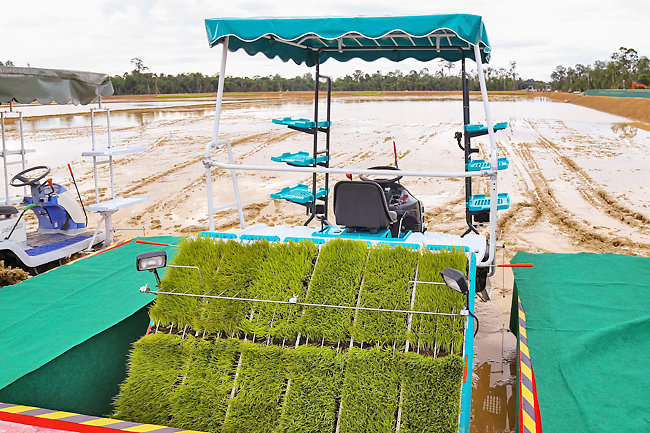 Paddy transplanter machine is seen at the commercial paddy farm in the Agricultural Development Area (KKP) Kandol in Belait District. (PHOTO: DANIEL LIM)
Meanwhile, KKP Rampayoh, operated by Pertaniantropikal utama (PTU), was able to process 3,700 kilogrammes worth of coffee, which the company values at BND19,500.
Back at KKP Merangking, AE Asia Fruit Plantation continues to develop its 20-hectare plantation, which started as a pilot project back in 2017. It has since expanded to 40 hectares housing 793 durian trees, 494 jackfruit trees, 176 rambutan trees, 79 tarap trees, 739 limau madu trees, 350 banana trees and 331 pineapple plants.
In 2020, AE Asia Fruit Plantation harvested 16,500 kilogrammes of both seasonal and non-seasonal produce, estimated to be worth BND25,700.
With the current push to strengthen food security, other efforts that have been made involve providing opportunities for young farmers to have their start in the sector.
This includes highlighting the achievements made by the Institute of Brunei Technical Education (IBTE) School of Agro-Technology and Applied Sciences developing students' skills and knowledge in the field such as the official paddy-harvesting ceremony for the school's first intake of HNTec students in the Agro Technology Programme for some 100 young agropreneurs to further explore business schemes offered by the Department of Agriculture and Agrifood.
Meanwhile, fisheries industry is set to increase production by 2035 and boost the contribution of exports to the national economy, following an agreement signing between the Department of Fisheries under the Ministry of Primary Resources and Tourism (MPRT) and Muara Port Company Sdn Bhd (MPC) on December 22, 2020.
Under the agreement, MPC will develop modern and high-tech facilities at the Muara Fish Landing Complex to ensure high-quality and environmentally-friendly services.
The modernisation of the complex will also introduce modern terminal equipment for the unloading of catch from fishing vessels and inshore and offshore fish cage farms, as well as the efficiency to load and unload basic supplies on fishing vessels departing from the jetty.
Dato Seri Setia Awang Haji Ali said, "These facilities will help to advance our key performance indicator (KPI) in the fisheries production from 100 million in 2019 to 175 million in 2022.
"This is a public-private partnership (PPP) project, which once completed, will also generate over 200 job opportunities for local employment to fill the positions of manager, factory worker, complex jetty supervisor, maintenance officer, technical assistant, salesman, assistant worker, driver, cleaner, premises controller, storekeeper and It will also provide facilities such as water, ice and oil for fishing vessels.
"In addition, selected companies will provide more efficient services for fish processing activities in the complex area.
"More vessels will operate through MPC international network, which will invite foreign investors to invest in aquaculture and fish processing, generating more job opportunities for locals."
MPC was selected through an open tendering process held earlier this year. It is a government-linked company (GLC) jointly owned by Beibu Gulf Holding (Hong Kong) Co Limited from the People's Republic of China and Darussalam Assets Sdn Bhd under the Ministry of Finance and Economy.
The project is aimed at boosting the efficiency and safety of vessel navigation to depart, land and berthe at the fish landing jetty; accommodate the increasing numbers of vessel landings and berthing at the jetty; improve product flow efficiency and cleanliness from landing to processing plant; and ensure that products from commercial fishing vessels and inshore and offshore fish farming cages are in compliance with national quality control and food safety requirements and the requirements of the importing countries, including the European Union (EU), the United States (US), Australia, the People's Republic of China and Japan.
Another recent development in the aquaculture sector was in January this year, when it was reported that Golden Corporation Sdn Bhd, an established foreign direct investment company, is looking to produce no less than 5,000 tonnes of shrimps this year.
Golden Corporation owns three shrimp farms totalling 250 hectares in Tutong District as well as three processing plants in both Tutong and Brunei-Muara districts. Its 200-hectare shrimp farm at Penyatang Tutong, is near completion, and is set to be the largest in the Sultanate.