The United Nations Food and Agriculture Organization (FAO) yesterday confirmed that it and its partners stand ready to support the Cambodian government to respond to COVID-19 and ensure sustainable food systems.
According to an FAO statement, the COVID-19 pandemic threatens to push 130 million people globally into hunger by the end of the year. In Cambodia, despite remarkable development progress, malnutrition is an ongoing concern, with 32 percent of children under five-years-old being stunted, and 10 percent emaciated.
FAO said that in Cambodia, the impact of COVID-19 on the economy, with many people losing employment or income, has made access to food even more difficult for vulnerable families. In response, the government has put in place additional social protection measures to address this challenge.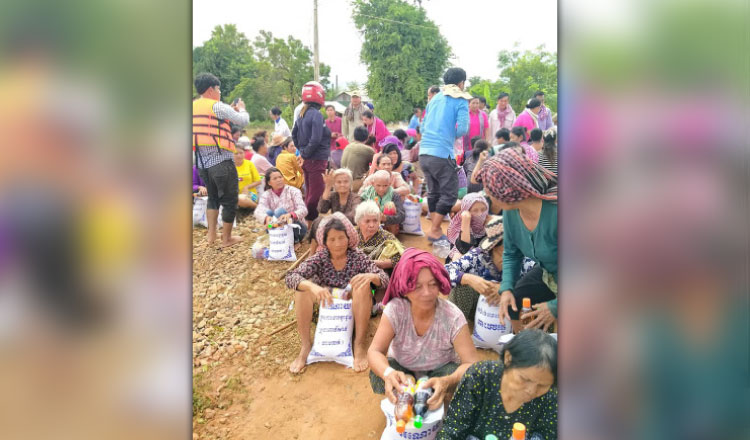 Around 100 poor families receive relief from the FAO in Pursat Province. (Photo Credit: Pursat Provincial Hall/Khmer Times)
"As countries begin to develop and implement COVID-19 recovery plans, there are opportunities to adopt innovative solutions based on scientific evidence, making food systems more resistant to shocks, while allowing people to recover from crisis," said the FAO. "To achieve this, more than ever, we need continuous innovation, strong partnerships and responsiveness in the food system."
"Data, technology, and innovation, along with strengthened coordination and responsible investments, are much needed to achieve better production, better nutrition, a better environment and better livelihoods," said Alexandre Huynh, FAO Representative in Cambodia. "Ensuring access to safe and nutritious food is and will continue to be an essential part of the response to COVID-19, particularly for poor and vulnerable communities, who are hardest hit by the pandemic," he said.
FAO has been working with farmers and coordinating with public and private sector institutions to quickly respond, with interventions ranging from the conservation of the natural resource base, through social assistance schemes for those most vulnerable, through to the modernisation and transformation of agricultural production and food value chains using the latest technologies available.
FAO is also assisting Cambodia in generating timely and reliable agricultural data to inform policy and decision-making, and in supporting national capacity to transform Cambodian agriculture to be more inclusive, competitive, resilient and sustainable.
"Agriculture will continue to flourish in Cambodia as a vibrant modern sector, providing a strong foundation for the national economy and supplying affordable, safe and nutritious food for the health and well-being of the population," FOA said.
The government continues to implement its cash support programme for poor and vulnerable families till December 2020 and allows them to delay paying a fixed levy to the National Social Security Fund until end of the year.
As of September 10, the government distributed $78 million to nearly 700,000 poor families suffering from the pandemic.