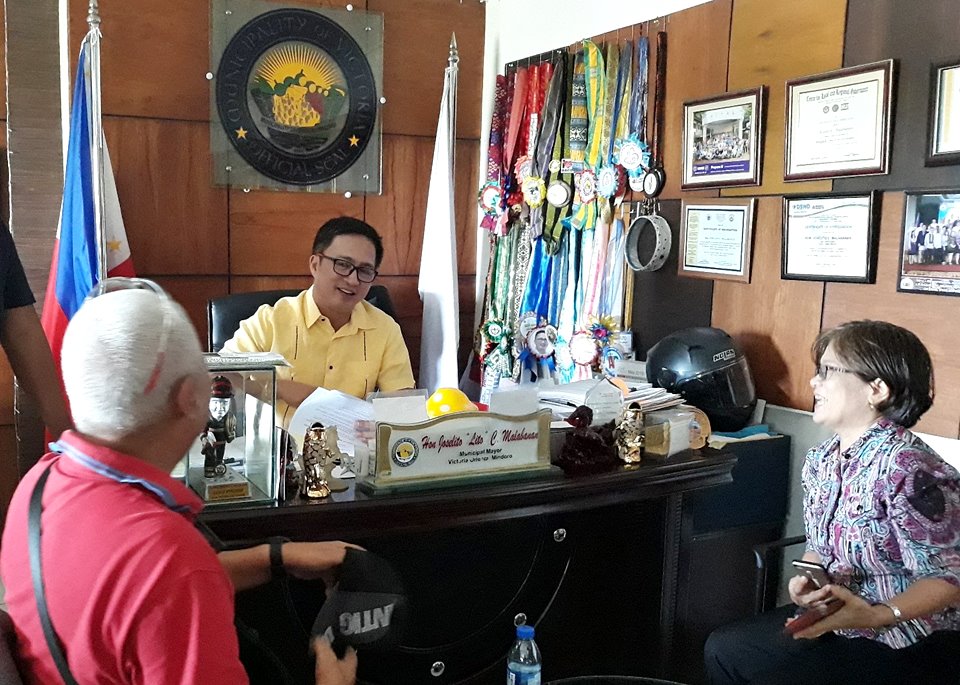 (Left to right) Dr. Jose R. Medina, overall Project Coordinator, Mayor Joselito Malabanan, and Dr. Ma. Concepcion Mores, on-site Project Coordinator, discuss the local government's continuous support to the ISARD Calamansi Project.
VICTORIA, ORIENTAL MINDORO, Philippines – Representing the Local Government of Victoria, Mayor Joselito Malabanan signed the Addendum to the Memorandum of Agreement (MOA) for the ISARD Calamansi Project under the Piloting and Upscaling Effective Models of Inclusive and Sustainable Agricultural and Rural Development (ISARD) Program of SEARCA on 29 May 2018 at the Office of the Mayor.
The Addendum to the MOA among the Mindoro State College of Agriculture and Technology (MinSCAT), Local Government of Victoria, and the Southeast Asian Regional Center for Graduate Study and Research in Agriculture (SEARCA), outlines the operational plan and the corresponding budgetary requirements to implement the project activities in its third year.
Dr. Ma. Concepcion Mores, on-site Project Coordinator, together with overall Project Coordinator Dr. Jose Medina, informed the Mayor of the project status and milestones. Mayor Malabanan expressed his unwavering support and commitment to the project by offering the necessary assistance and delivering the local government's counterpart services. Twenty thousand calamansi seedlings were pledged to enable the farmer-beneficiaries to rehabilitate existing farms and improve farm productivity. Likewise, the local government will continue the distribution of foliar fertilizer for fruit crops such as rambutan, lanzones, durian and calamansi.
Dr. Medina informed the mayor that Rustan Supercenters Inc., a large chain of hypermarkets in the Philippines, is interested in partnering with the Victoria Kalamansi Farmers Federation (VKFF) and other local farmers to be direct suppliers of fresh calamansi through the ISARD Calamansi Project. This is seen as an excellent opportunity to expand the market of calamansi and penetrate other markets for the project's farmer-beneficiaries.
The Mayor reiterated the commitment of the local government to help bridge business possibilities for the local farmers of Victoria. He affirmed his eagerness to work closely with MinSCAT in implementing development projects such as the ISARD Calamansi project, toward a more diversified and progressive agriculture sector of the municipality, and to realize its vision of becoming the "fruit basket" of the province.