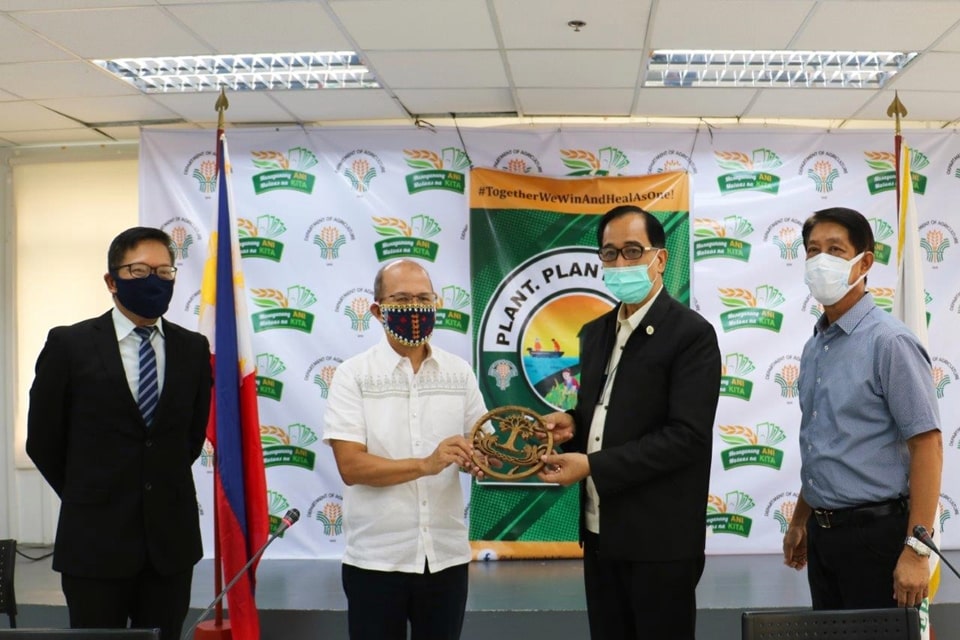 The Department of Agriculture-Bureau of Plant Industry (DA-BPI) and the Southeast Asian Regional Center for Graduate Study and Research in Agriculture (SEARCA) have formalized their partnership in establishing gardens under the DA-BPI Urban Agriculture Program in an agreement signed on 22 June 2020. Signatories to the memorandum of agreement are Agriculture Secretary William D. Dar and SEARCA Director Glenn B. Gregorio.
The DA-BPI is leading the implementation of the Urban Agriculture Program "as one of the modalities that renders safe food available, accessible, and affordable while providing additional income to households and communities in urban areas."
"During this pandemic, we have to really secure every space and see to it that we turn this challenge into an opportunity for agriculture and food," Secretary Dar said.
He thanked SEARCA for "this opportunity to partner with them in promoting and pursuing urban agriculture in a big way."
Dr. Gregorio said SEARCA sees the importance of promoting urban agriculture to improve the stability of food supply, alleviate poverty, foster social integration among communities, and protect the environment through innovative and eco-friendly gardening methods.
He said, "because of the pandemic, people realized the importance and the source of our food or the food system and start to appreciate how fragile it is and how important food security is."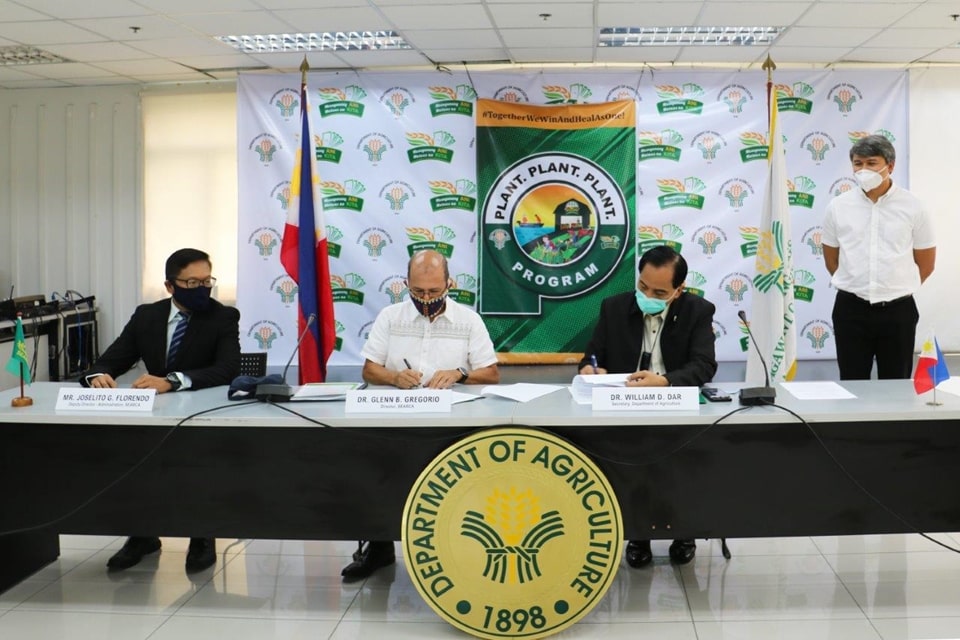 Philippine Agriculture Secretary William D. Dar (second from right) and SEARCA Director Glenn B. Gregorio (second from left) signed the Memorandum of Agreement between SEARCA and the Department of Agriculture-Bureau of Plant Industry (DA-BPI) on implementing urban agriculture on 22 June 2020 at the DA Main Office in Quezon City, Philippines. Witnesses to the signing were SEARCA Deputy Director Joselito G. Florendo (left) and DA-BPI Assistant Director Gerald Glenn F. Panganiban (right).
"With this partnership, I think we will all the more link the academe, the industry, and the government. With these three linked together, I think we will have a more sustainable implementation of the urban agriculture program. I think we can have a big impact at the community and the city level," Dr. Gregorio said.
In a policy paper it released this month, SEARCA identified ways to influence the adoption of urban agriculture. Among these is the need for a massive intervention for a wide understanding of urban agriculture and the need to reignite the Filipinos' love of planting and growing their own food to pave the way to more adoption. SEARCA's recommendations will be addressed through this project wherein DA-BPI encourages crop production and community gardening using various technologies in households, barangays, schools, and public offices.
The SEARCA policy paper also indicated the need for the implementation of urban agriculture to be easy to follow, require fewer inputs, and customized depending on the conditions in the garden site.
The DA-BPI has allocated funds for the provision of starter kits that include agricultural inputs and any needed technical assistance for the individual or household beneficiary. It also provides funds for the setting up or enhancement of barangay, community, school or university, and public office gardens, including the gardens that SEARCA will establish under the new partnership with DA-BPI.
"With this project with DA-BPI, SEARCA is walking its talk to help show the big potential of urban agriculture to sustain urban families with their needed food both in terms of quantity and quality, especially in times of food disruption brought about by COVID-19, climate hazards, and natural disasters," Dr. Gregorio said.