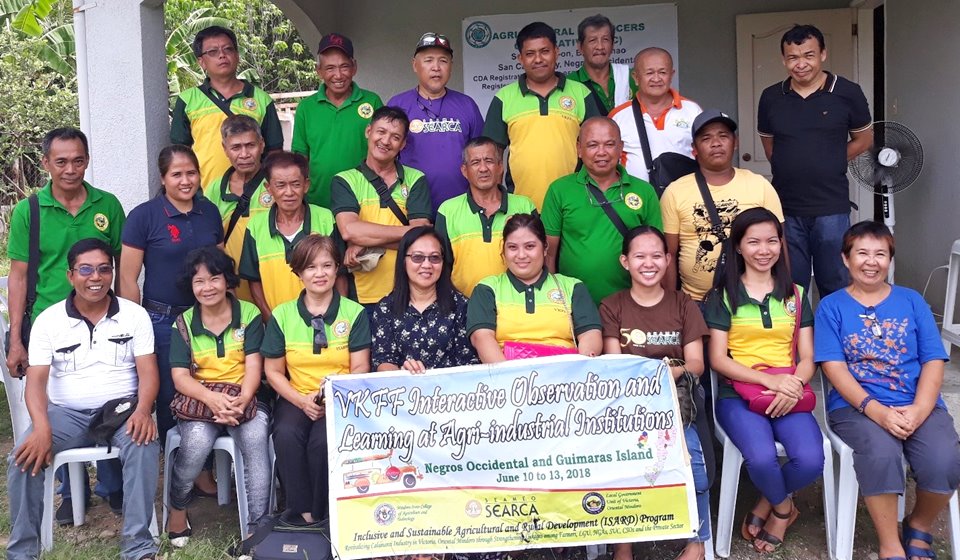 Participating members of the VKFF, LGU, MinSCAT and ISARD Pilot Program Team with Mr. Danny Moraca, Multi-Sectoral Alliance for Development Negros (MUAD-Negros) Organizational Development Coordinator (far right – 3rd row) and Ms. Gilda Parreño Agricultural Producers Cooperative (APC) Manager (far right – first row)
Bacolod City, NEGROS OCCIDENTAL, Philippines – The Mindoro State College of Agriculture and Technology (MinSCAT) and the Local Government Unit (LGU) of Victoria, Oriental Mindoro together with the Southeast Asian Regional Center for Graduate Study and Research in Agriculture (SEARCA) organized a two-day educational tour called VKFF Interactive Observation and Learning at Agri-Industrial Institutions in Negros Occidental on 12-13 June 2018. This initiative is in line with the Piloting and Upscaling Effective Models of Inclusive and Sustainable Agricultural and Rural Development (ISARD) Program of SEARCA. Selected members of the Victoria Kalamansi Farmers Federation (VKFF), the agricultural technician of LGU Victoria, and the local project team joined the tour.
The learning activity intended to provide farmers an opportunity to enrich their knowledge, exposure, and experience by visiting agri-industrial establishments and projects featuring new technologies, sound farming practices, financing schemes, manufacturing processes, and entrepreneurial activities applicable to their calamansi production and processing enterprise.
From Bacolod City, the team traveled to Sitio Maloloy-on, Barangay Punao, San Carlos City to visit the food processing plant operated by the Agricultural Producers Cooperative (APC) established in 2008. APC Manager, Ms. Gilda Parreño, gave a brief presentation about the cooperative-run enterprise, which is presently engaged in turmeric powder production.
Prior to its operation, various government agencies were consulted by APC to assist them in the preparatory phase of the enterprise. These include the Department of Science and Technology (DOST) for the layout and design of the processing facility; and the Department of Trade and Industry (DTI) for labelling, packaging, and other aspects of product development. Moreover, the strict compliance to the procedures and guidelines of the Food and Drug Administration (FDA), for food production and processing, was also emphasized. Most importantly, APC developed their own operations manual that outlines standard processing procedures and schedules for turmeric production and processing.
It was strongly advised for the VKFF to devise their own operations manual, register with the Bureau of Internal Revenue (BIR), and pursue compliance to FDA as fundamental steps to legitimize their calamansi business. Afterwards, a tour inside the food processing facility was conducted for the participants to familiarize and give them an idea on what an FDA-compliant processing facility should look like.
The participants also headed to Barangay Kudkud in San Carlos City and visited the Group Savings and Lending Association (GSLA) to learn about their financing scheme and organizational management. GSLA is an organized small group facilitated by the Multi-Sectoral Alliance for Development Negros (MUAD Negros) where the concept of Community or Village Banking adopted from Africa was introduced as alternative and formal source of credit among farmers and villagers. Mr. Danny Moraca, MUAD Negros Organizational Development Officer, and some of the GSLA members provided the historical background and development of policies on savings and lending mechanisms of the group. The concepts of Deposit and Withdraw were explained and instilled among the members to define the simple framework and objective behind the GSLA financing.
Mr. Mauro Metrillo, VKFF Vice-President, shared his experience and recognized some of the practices employed by the association, which can be emulated by the federation in the future. These include the use of properly laid-out passbook, ledger, and treasury box with security features representing the bank, the savings cycle, and allotment of social fund.
The gradual disappearance of and reliance to informal credit sources were considered the important contributions to the community. Despite the small organizational structure, Dr. Jose Medina, Overall Program Coordinator of the ISARD Piloting Program, stressed the values of honesty, trust, and commitment exemplified by the GSLA members as key factors in the continued existence and success behind the rural financing initiative.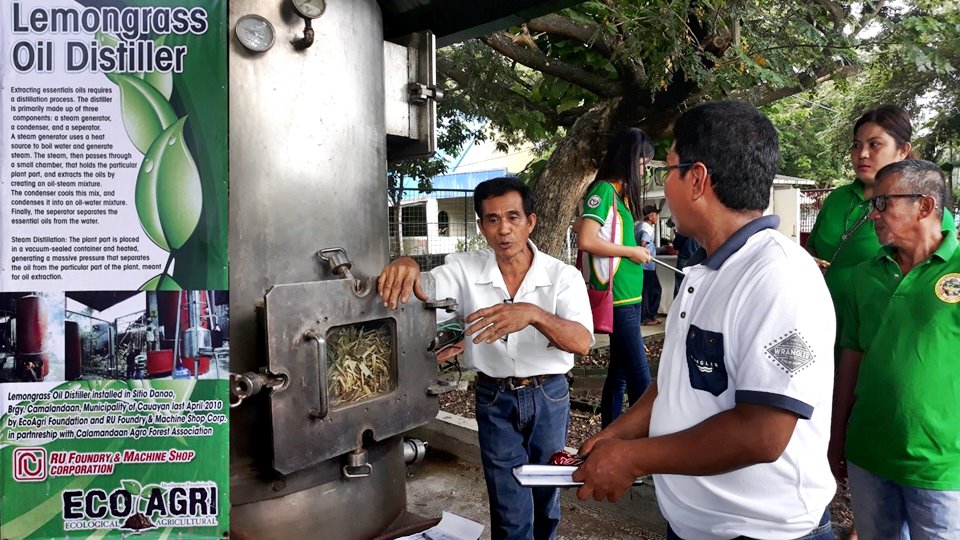 VKFF's tour inside May's Garden featuring the Lemongrass Oil Distiller equipment
The participants also stopped by at RU's Foundry and Machine Shop Corporation located in Sitio Aning, Barangay Pahonocoy, Bacolod City, which is famous for its quality and proudly-locally-made agricultural machineries and equipment designed and manufactured by Ramon Uy's (RU) company. Known for its biodegradable shredder machine, participants were provided with actual demonstration on the practical use of machineries developed as means to promote waste management technology and compost production systems.
Participants also had a chance to explore May's Organic Garden and Restaurant, the 6.2-hectare agri-ecological park that showcases the integration of sustainable and organic farming practices and technologies. It served as an ideal learning center for VKFF members who were able to observe the "Produce Ur Own Organic" (PURO Organic) and RU Botanicals facilities for food and non-food product processing, respectively.
Given this learning opportunity, the VKFF realized the need to formalize their legal identity as an organization through appropriate registrations and accreditations for the sustainability of their calamansi enterprise. VKFF is also considering strategies that would help convert calamansi by-products into value-added products for product diversification and market expansion.