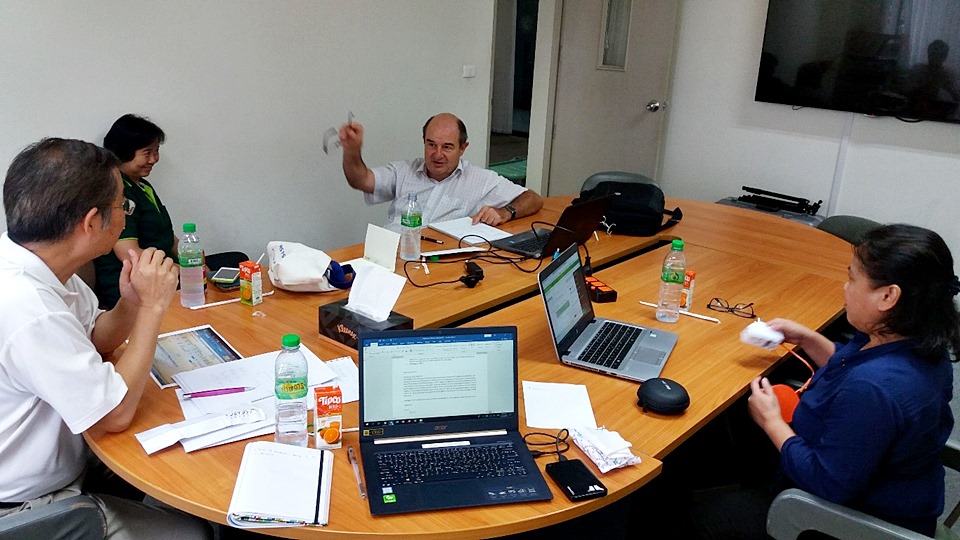 16 August 2018. Meeting with the project partners on the assessment of the technical implementation report.
The Joint Master Degree – Food Security and Climate Change (MS FSCC) project team held its meeting with the project partners from SEARCA and SupAgro at KU on 14-15 August 2018. KU and SEARCA, as the co-coordinators of the project, presented updates regarding the students enrolled in the course. Important issues, which needed clarifications from the project team were also tabled. The two-day event also discussed the result of the assessment of the technical implementation report from the Education, Audiovisual and Culture Executive Agency (EACEA) and how its comments and recommendations would be addressed. Furthermore, additional information and clarifications with regard to the implementation of the project were deliberated in the meeting.
The MSFSCC is a joint degree project partially funded by the European Commission's ERASMUS + Capacity Building for Higher Education. The ERASMUS project is being led by Kasetsart University (KU) and involves 11 other partners from Southeast Asia and 5 partners from Europe.
The program is open to other universities of the region with the support of SEARCA, which has been providing graduate scholarships to Southeast Asians for almost 50 years now. It aims to develop high caliber professionals working on climate change and food security in SEA.
Project Coordinator from KU, Dr. Poon Kasemsap presents the project plan to the group.