Bringing the spirit of fiesta to Filipino homes in the prevailing pandemic, SEARCA featured experts, advocates, and youth partners on food and agriculture at the 2021 Pista ng Pagkain at Kabataang Pinoy or "Pistang PagKaPinoy" on 23 October 2021 via Zoom and Facebook Live.
In relation to the World Food Day celebration, the festival featured lessons, stories, and concepts on food and its intersections with business, nutrition, arts, gender, culture, and tourism. The speakers were Ms. Amy Besa, Owner of NYC-based Purple Yam; Prof. Cristina Sison, Co-Project Leader of UP Rural High School Youth in Agriculture Program; Mr. Raymund Vincent Aaron, Banana Chief of Villa Soccoro Farm; Mr. John Bryan Lawas, University Research Associate of UPLB Edible Landscaping Team; Prof. Rodmyr Datoon, a faculty member at the UPLB College of Agriculture and Food Science; and Ms. Melody Melo-Rijk, Project Manager for Sustainable Consumption and Production of World Wildlife Fund-Philippines.
"Food is something very basic, yet very essential for our health, for our life, and for you, young people. Activities like this fiesta are our way to promote mindset transformation in agriculture – we want to change the perception and mindset of the youth in agriculture," said Dr. Glenn B. Gregorio, SEARCA Director, in his opening message.
Dr. Gregorio also added that Pistang PagKaPinoy is part of SEARCA's 55th Anniversary celebration with the theme, "Sowing Seeds of Innovation for Agricultural Transformation".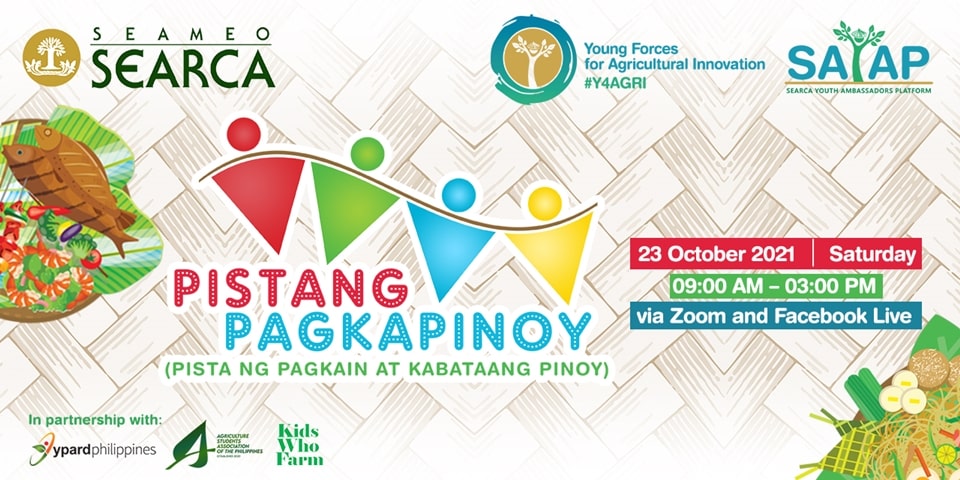 Food memories and nutrition
In her keynote message, Ms. Besa highlighted how Filipino food is linked with Filipino values, tradition, and culture. She shared that upon leaving the country for good and establishing an NYC-based kitchen, memories of Filipino food became her lifeline to survive.
"There is nothing like Filipino food because of Filipino hospitality and generosity in general. Filipino food becomes more delicious and exciting to eat because of the manner we share and package it to others," said Ms. Besa.
Meanwhile, Ms. Sison discussed the concept of food system and its current status in the ongoing health crisis. She shared that our food system should not only be resilient but also equitable. She added that everyone should be able to eat a nutritious diet at all times. Asked about what the future holds, Ms. Sison reinforced that "the youth can aspire for better nutrition and better food system. As the future generation, you have the responsibility to take care of the environment. Be aware and be involved today because the future is in your hands."
Intersections of food with other fields
In food and business, Banana Chief Aaron shared his insightful story on the food industry that led him to become an agripreneur. He encouraged the Filipino youth to continue finding their "sweet spot" in life and never be afraid to face challenges. "Never be afraid to start small and establish a long-term vision for your business," he said.
On the other hand, Mr. Lawas discussed the colorful and vibrant intersections of food and arts in his talk on edible landscaping. He shared concepts and principles of edible landscaping and how they apply it to ornamental arrangements of vegetables, fruits, medicinal plants, herbs, and spices in a garden. He concluded that "having an edible landscaping garden in our home is more than having a source of safe, sufficient, and nutritious food in our tables."
Resonating the previous presentations, Prof. Datoon discussed how gender and culture influence how Filipinos experience and perceive food. He highlighted that other food cultures also played a significant role in the construction of the Filipino food experience that is being practiced until now.
Lastly, Ms. Melo-Rijk underscored how to become responsible tourists and "food vloggers" as travel also has an impact on the environment. She ended her talk with a message to all young Filipino tourists: "in order to make our food and tourism industry long-lasting, I encourage you to support and respect policies in preserving tourist destinations equally as how we respect food, culture, and people."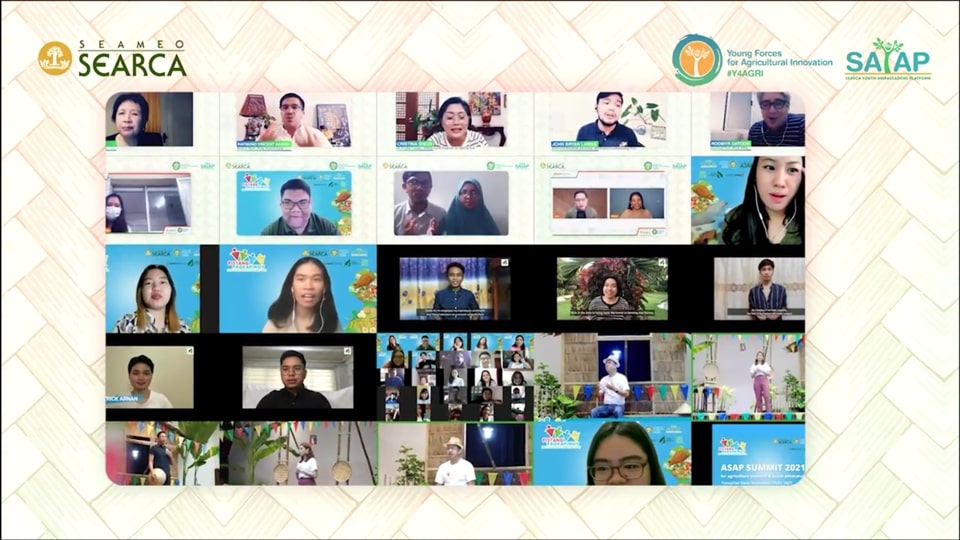 'Fiesta Bazaars' for challenge, game, and info session
Three partners of SEARCA organized virtual fiesta bazaars in the afternoon session of Pistang PagKaPinoy to promote food and agriculture through fun and engaging challenges, games, and information sessions. The first bazaar, "Tara luto!", is a cooking challenge session by the Young Professionals for Agricultural Development (YPARD) – Philippines; the second bazaar, "Tara hydro!", is an educational game session by the Agriculture Students Association of the Philippines (ASAP); and the third bazaar, "Tara hydro!", is a learning and demo session on growing food through hydroponics by Kids Who Farm.
Mr. Joselito G. Florendo, SEARCA Deputy Director for Administration, concluded the virtual youth fiesta by underscoring the importance of festivities.
"What SEARCA served today in your platters is just a glimpse of the problems and solutions on the ground when it comes to food and agriculture. We hope that on your way home from our fiesta, you also brought with you not just food, but also all the lessons, stories, and inspirations on food and what the Filipino youth can do to contribute to the agri-food sector," said Mr. Florendo.
The virtual youth festival was organized by the members of the SEARCA Youth Ambassadors Platform (SAYAP) composed of the young staff of the Center. The festival aimed to promote a diverse and interdisciplinary approach to the food system where young people are engaged. It is one of the platforms giving voice to the youth as part of the Young Forces for Agricultural Innovation (#Y4AGRI), SEARCA's banner youth initiative that aims to nurture young people as partners and leaders for agricultural innovation.