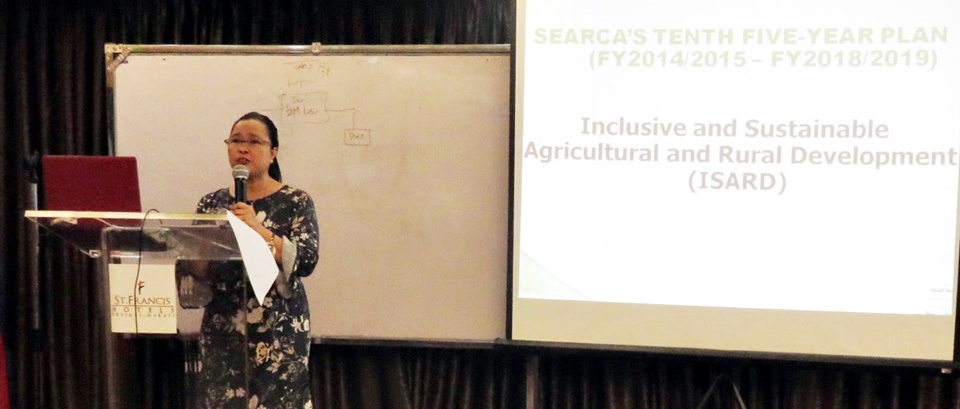 MANDALUYONG CITY, Philippines–The Southeast Asian Regional Center for Graduate Study and Research in Agriculture (SEARCA) presented "The Role of School Gardening in the Context of Nutrition, Education, Nutrition Improvement, Agriculture, and Economics" during the Council of Deans and Heads in Nutrition and Dietetics, Inc. (CODHEND) Seminar-Workshop 2018, held on 24-25 January 2018 at the BSA Twin Towers, Ortigas Center.
The presentation was based on the results and lessons learned drawn from the project, "A Participatory Action Research on School- and Community-based Food and Nutrition Program for Literacy, Poverty Reduction, and Sustainable Development," also known as School and Home Gardens Project (SHGP). The SHGP was jointly implemented by SEARCA, the University of the Philippines Los Baños (UPLB), and the Department of Education (DepED) – Laguna Division from January 2016 to June 2017, with funding from SEARCA and ADB through the SEAMEO College.
SEARCA's Program Head for Research and Development, Dr. Bessie M. Burgos, discussed the rationale, conceptual and operational frameworks, design, and key findings and accomplishments of the project. Her presentation included an excerpt from the SHGP video. Dr. Burgos concluded her session by announcing two important back-to-back events related to school and home gardens, namely, the International Conference on School Plus Home Gardens and the Training of Trainors on Scaling-up the School Plus Home Gardens in Southeast Asia, which will take place on 16-21 April 2018 at the SEARCA Headquarters, Los Baños, Laguna.
There was high interest in the SHGP model among the participants, especially in the overall implementation guidelines, the edible landscaping component, and the links of the school gardens to the school feeding program and the households.
The 2-day CODHEND seminar also introduced The Philippine Plan of Action for Nutrition (PPAN), the central kitchen school-feeding model, and capacity building of leaders, among other important topics.
SEARCA was also represented by its Visiting Research Fellow from the University of California, Mr. Shun-Nan Chiang.