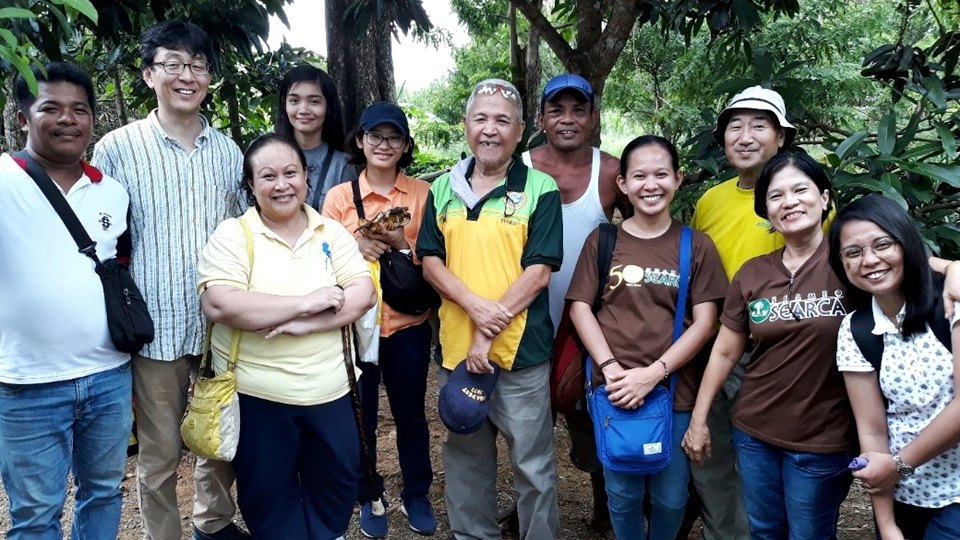 From Left to Right: Mr. Virgilio Macailao of MinSCAT; Dr. Tadashi Baba of Tokyo NODAI; Dr. Josephine Agravante and Kristelle Marie Ybanez of UPLB-PHTRC; Dr. Mika Yoshida of Tokyo NODAI; Dr. Jose Medina, Overall Program Coordinator, Piloting ISARD Model Project of SEARCA; Mr. Cornelio Palomar of VKFF; Ms. Patricia Ann A. Pielago of SEARCA; Dr. Yoshitaka Kawai of Tokyo NODAI; Dr. Ma. Concepcion Mores; and Ms. Cherry Ann Osorio of MinSCAT
VICTORIA, ORIENTAL MINDORO, Philippines. The Tokyo University of Agriculture (Tokyo NODAI), in partnership with the University of the Philippines Los Baños – Postharvest Horticulture Training and Research Center (UPLB-PHTRC) and the Southeast Asian Regional Center for Graduate Study and Research in Agriculture (SEARCA), established experimental sites and conducted field trials to validate the effects of off-season production technologies suitable to the growing conditions of calamansi in Victoria, Oriental Mindoro on 24-26 August 2018. This research undertaking is integrally a part of the project proposal on upgrading the commodity's value-chain under the National Technology Commercialization Program (NTCP) of the Department of Agriculture – Bureau of Agricultural Research (DA-BAR).
In collaboration with SEARCA's implementing partners in one of its banner programs titled "Piloting and Upscaling Effective Models of Inclusive and Sustainable Agricultural and Rural Development (ISARD)", the Mindoro State College of Agriculture and Technology (MinSCAT), and the Local Government Unit of Victoria (LGU Victoria) together with the UPLB-PHTRC, and the Victoria Kalamansi Farmers Federation (VKFF) were identified as the collaborating agencies and the partner beneficiary of the said project, respectively.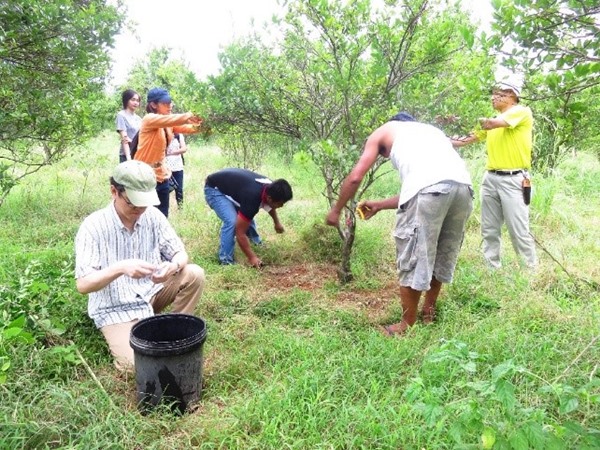 Site preparation for the fertilizer application experiment using plant growth regulator as treatment for off-season fruiting
Dr. Tadashi Baba, Dr. Yoshitaka Kawai, and Ms. Mika Yoshida from the Department of Agriculture – Postharvest Physiology and Technology Division of Tokyo NODAI, agreed to replicate their previous joint study on calamansi with the UPLB-PHTRC in Mindoro area this time. In particular, the use of pruning technique and plant growth regulators as off-season fruiting technologies will be tested and validated to have a continuous supply beyond peak production periods. Moreover, the quality evaluation of fruits produced in the area at different ripening stages is expected to aid in determining the suitable maturity stage ideal for processing.
To provide technical assistance and logistical support needed, the Japanese experts were joined by Dr. Jose Medina and Ms. Patricia Ann Pielago, Overall Program Coordinator and Project Assistant from SEARCA, respectively; Dr. Josephine Agravante and Ms. Kristelle Marie Ybañez, Research Assistant Professor and Research Assistant from UPLB-PHTRC that also hosted the Tokyo NODAI representatives.
The team met with the ISARD local project management team headed by Dr. Ma. Concepcion L. Mores, Vice President of MinSCAT and on-site project coordinator to discuss the requirements and mechanics of the experiment as well as the selection of farm sites and possible farmer-cooperators for the activity. Before the ocular inspection, the team paid courtesy visit to Mr. Baldomero Bicaldo Jr., officer-in-charge and Vice President for Academic Affairs of MinSCAT.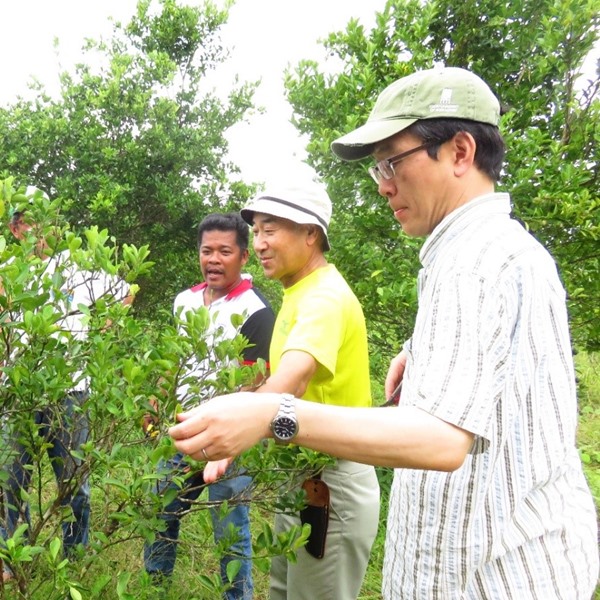 Dr. Tadashi Baba (1st from right) and Dr. Yoshitaka Kawai (2nd from right) demonstrating the full-pruning technique as another treatment for off-season fruiting of calamansiThree demo farms were visited. Along the course of inspection and selection, Dr. Baba and the rest of the team learned of the existing production, harvesting practices, postharvest mechanisms, and marketing strategies employed by the farmer-cooperators in Victoria.
Among these farms, the 2-hectare calamansi demo farm owned by Mr. Cornelio Palomar situated in Brgy. Leido, Victoria was selected as the experimental site considering the age (6 years) and height (1 to 2.5 m) of trees, which fit the required tree characteristics for each treatment. A total of 30 calamansi trees were purposively selected, tagged, and weeded. These were equally divided into six treatments including the control. Two types of pruning were employed to delay fruiting: the half and the full pruning of shoots, young flower buds, and fruits. Basal application of fertilizer solutions using abscisic acid (ABA) and Miyobi Gold, a commercial fertilizer in Japan containing natural type of ABA and potassium were also done to promote and increase flower formation during off-season.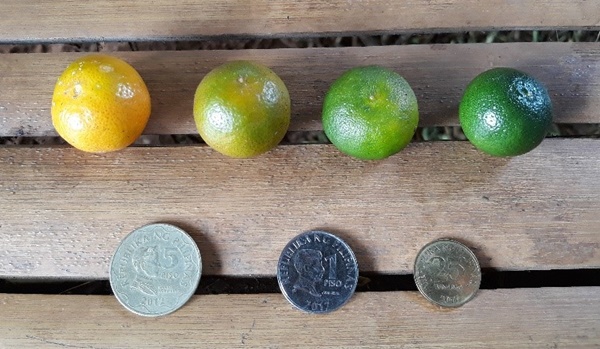 Samples of calamansi fruits at different ripening stages subject to quality evaluation (from L-R: over-ripe, ripe, breaker and mature green)Meanwhile, a quarter of a kilogram of fruit samples for each of the four (4) maturity stages of calamansi (mature green, breaker, ripe, and over-ripe) were gathered for laboratory analysis to determine the physio-chemical characteristics including ascorbic acid (AA) content as part of the fruit quality evaluation.
Before the activity concluded, the team and the rest of the participating members convened to discuss the protocol for the monitoring phase and the parameters that must be considered. Mobilization of resources necessary for the monitoring activities were also raised. It must be ensured that there is a systematic way of monitoring, data collection, and proper documentation to arrive with factual and accurate results, which are critical determinants of the technology's efficacy. Monitoring shall take place starting October until January next year.
The success of these farming technologies in attaining a stable supply of calamansi even during lean months will bring farmers in a better position where they can maximize the economic benefits brought about by higher level of farmgate prices, which in turn raise farm income.
Dr. Mores together with Mr. Virgilio Macailao and Ms. Cherry Ann Osorio, Project Research Assistants from MinSCAT also joined and took the lead in coordinating with the local farmers and field activities.