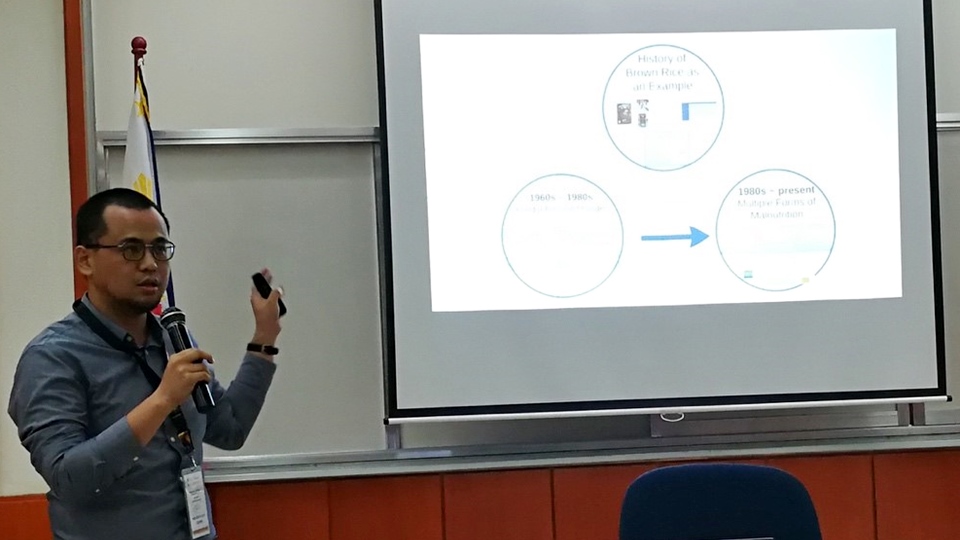 TAGAYTAY, Philippines – The Southeast Asian Regional Center for Graduate Study and Research in Agriculture (SEARCA) joins the University of the Philippines Los Baños (UPLB) Interdisciplinary Studies Center on Food & Nutrition Security, FAO Philippines, and the Cavite State University in organizing the International Conference on Nutrition-Sensitive Agriculture and Food Systems with the theme Strategic Approaches to Nutrition-Sensitive Agriculture and Food Systems in Southeast Asia at the Development Academy of the Philippines, Tagaytay City on 7-10 November 2018.
In the Nutrition-Sensitive Food Systems: Cross-cutting Issues parallel session of the conference, Mr. Shun-nan Chiang, SEARCA Visiting Research Fellow and PhD Candidate, University of California, Santa Cruz, presented his paper on Historicizing the Nutrition-Agriculture Linkage from the Food Systems Perspective. The research focused on historical formation of the global food system, the politics underlying socio-technical innovations, and the cultural-scientific construction of dietary knowledge. Specifically, it compared five distinct types of agricultural innovations for malnutrition in the Philippines. As an example, he presented the history of Brown Rice Transformation from the 1870s to present. He highlighted the long-standing connections between agricultural development, the issue of malnutrition, and the advances of modern nutritional science. In conclusion, Mr. Chiang urged a call for attention to the interrelations between different types of malnutrition and explore the potential of multi-functions underlying any agricultural innovations.
SEARCA's Visiting Research Fellows (VRF) Program is intended for researchers, within or outside Southeast Asia, who are conducting research along inclusive and sustainable agricultural and rural development (ISARD). It aims to contribute to the critical mass of professionals working on ISARD in Southeast Asia.