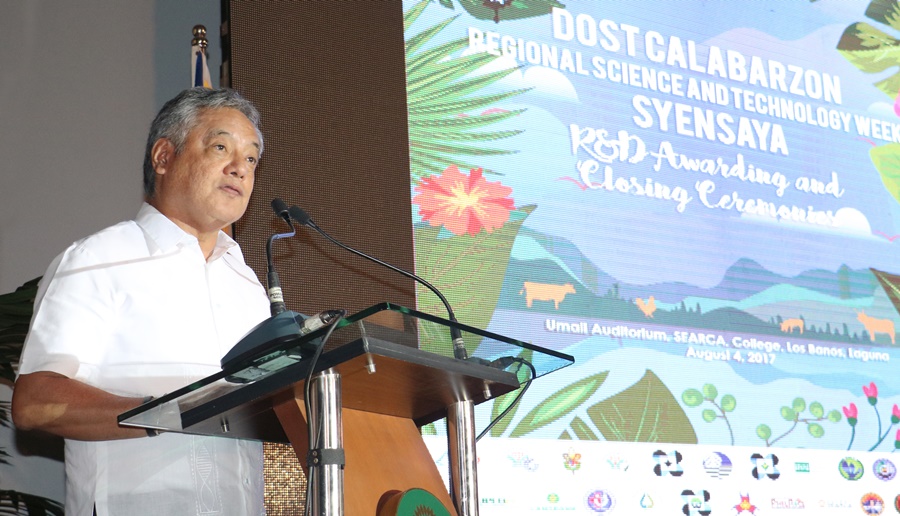 Dr. Gil C. Saguiguit, Jr., SEARCA Director, welcomes the guests to the SyenSaya R&D Awarding and Closing Ceremonies.
The Southeast Asian Regional Center for Graduate Study and Research in Agriculture (SEARCA) hosted the R&D Awarding and Closing Ceremonies of "SyenSaya 2017," the annual science festival organized by the Los Baños Science Community Foundation, Inc. (LBSCFI), on 4 August 2017.
SEARCA was one of the founding members of LBSCFI, which now has 22 member agencies. A banner program of the Foundation, SyenSaya creates heightened awareness of how science and technology (S&T) improves the quality of life.
"LBSCFI takes pride in the spirit of volunteerism among its members, especially in the area of community service… The camaraderie between and among members have also amplified the Foundation's success and interests," emphasized Dr. Reynaldo V. Ebora, Executive Director of the Philippine Council for Agriculture, Aquatic and Natural Resources Research and Development (PCAARRD), in his message.
R&D Awards
In his message, Dr. Gil C. Saguiguit, Jr., SEARCA Director, stressed that increased investment in agricultural R&D is vital to the country's growth and overall development, and reiterated SEARCA's support for capacity building and developing a new breed of researchers and professionals to take up the challenge of nation building.
The International Rice Research Institute (IRRI) won the PARRFI R&D Award (Research Category) for its research titled "Biofortified indica rice attains iron (Fe) and zinc (Zn) nutrition dietary targets in the field." PARRFI stands for Philippine Agriculture and Resources Research Foundation, Inc.
According to the IRRI team, "we have successfully accomplished the proof of concept on attaining iron/zinc nutritional targets under flooded field conditions to fulfill 30% of estimated average requirement in the human diet in a well-characterized genetically modified (GM) event of the widely consumed indica rice cultivar, without a yield penalty. This achievement enables the future option to combine iron, zinc, and provitamin-A traits in rice grain. The high-iron-and-zinc rice could complement other current micro-nutrient intervention strategies, such as supplementation and food fortification, to alleviate nutritional deficiencies in rural regions and in urban poverty-stricken populations, where these interventions are less effective."
On the other hand, the Ecosystems Research and Development Bureau (ERDB) bagged the F.O. Tesoro Technology Transfer Award for the "ERDB Hi-Q VAM1 Technology." The mycorrhizal or fungal technology aids plants in coping with various environmental stresses, thereby showing promise for rehabilitation of degraded and marginal lands.
Showcasing S&T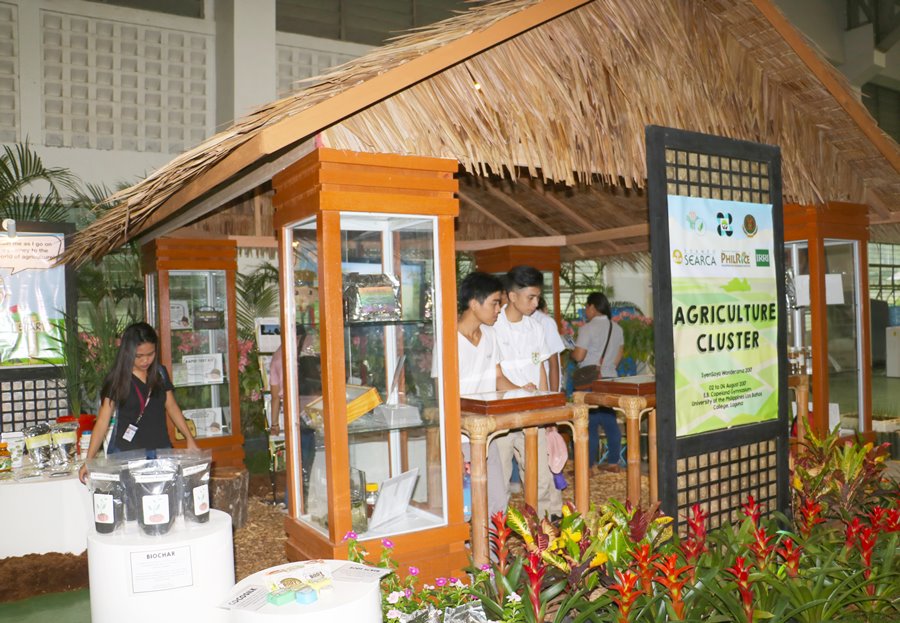 SEARCA also participated in the Wonderama exhibition, which featured urban, marine, agriculture, and environment-related S&T exhibits during the festival that ran from 2 to 4 August 2017 at the Copeland Gym of the University of the Philippines Los Baños (UPLB).
SyenSaya 2017 likewise engaged the community in two technology forums: "Environmental Forum on Water Security of Los Baños" and "Building a Strong Community with Sustainable Livelihood through Community Empowerment thru Science and Technology (CEST)."
Meanwhile, DOST-CALABARZON also launched the LBSCFI Youth Science Awards, which will commence in 2018 and exclusively opened to Los Baños schools. The teachers were called upon to encourage S&T-centered research among their students and submit these as entries for the awards.
With the theme "Science for the People: S&T in Harmony with Biodiversity," this year's celebration was held in conjunction with the Regional Science and Technology Week (RSTW) of the Philippine Department of Science and Technology (DOST)-CALABARZON.
Spotlight on "science ecotourism"
In his closing remarks, Dr. Alexander R. Madrigal, DOST-CALABARZON Executive Director, indicated that among the programs being lined up for next year's celebration of SyenSaya is the LBSC "science ecotourism," and that it will highlight, as one of the major destinations, the Southeast Asian AgriMuseum and Learning Center to be built by SEARCA.