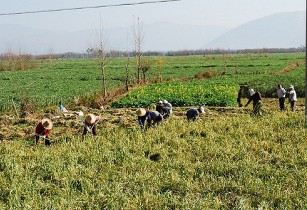 The role of agricultural biotechnologies is increasing to improve nutritional security and fight malnutrition across the Asia-Pacific region. (Image source: egorgrebnev/Flickr)FAO urges countries in the Asia-Pacific region to adopt a more holistic approach and consider the wider range of low-to-high-tech solutions present in the biotechnology toolbox to achieve the food and nutrition security in the region.
The organisation further stressed the need of using other forms of agricultural biotechnologies to reach the goal, which include the use of biofertilisers or biopesticides in crops and trees, artificial insemination and other reproductive technologies in livestock such as DNA-based tools to diagnose diseases of farmed fish and many more.
Commenting on the benefits of the use of biotechnologies to the smallholder farmers, Kundhavi Kadiresan, assistant director-general and FAO regional representative for Asia and the Pacific, explained, "Gaining greater access to, and utilising these various forms of agricultural biotechnologies can contribute to greater food security for the region and increased profits for smallholders who produce the vast majority of the food we eat each day."
"If this region is to meet the ambitious SDG targets and eliminate hunger, malnutrition and poverty by 2030, countries need to look at every safe, evidence-based form of food production and ensure the benefits of science can reach the smallholders," he further added.
To discuss it further, FAO organises a regional meeting on agricultural biotechnologies in sustainable food systems and nutrition in Asia-Pacific from 11-13 September 2017, in Kuala Lampur, Malaysia. During the three-day meeting, governments in the Asia-Pacific countries, scientists, academia, civil society and the private sector will participate to share experiences of agricultural biotechnologies and examine opportunities for their use to meet the needs of smallholders in the region.
"The biotechnology divide is widening in the region and what we observe today is a subset of emerging countries moving forward very quickly while many others are not accessing or investing in recent advances in science and technology, including agricultural biotechnologies," said Samy Gaiji, head of research and extension unit of FAO.
"This open forum is a unique opportunity to engage stakeholders in a science-based dialogue and exchange of ideas based on concrete and practical case studies where biotechnologies have been applied to benefit smallholder farmers, food producers and consumers, especially in developing countries," Gaiji commented.