ndia's farm produce is private; mills are private; traders are self-employed who arrange financing privately; market risk of profit and loss is private; buyers/importers too are largely private.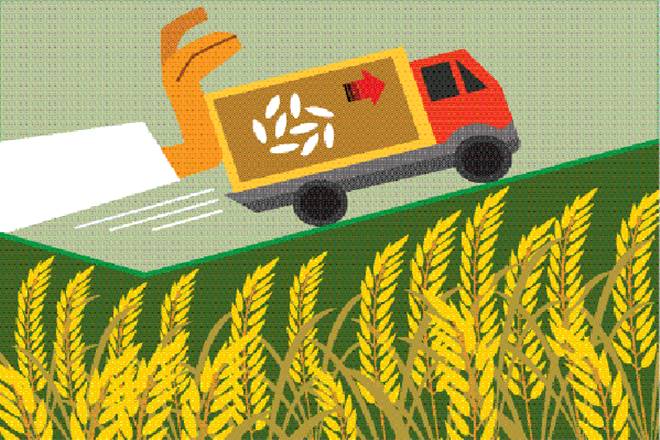 This year Bangladesh needs to import 1.5 mt of Non-Basmati rice-that could go up to 2 mt.
Rice (Basmati+Non-Basmati) export of 75 million tonnes (mt) in a decade between 2007-17 with forex earnings of Rs 2,76,000 crores—which as per current $/rupee parity equals $42.5 billion—is one of the most notable features of India's trade thrust. This would be even more in dollar terms if lower rupee-dollar is factored for previous years. Thailand stands at number one with export of 90 mt rice in the same period while India at number two (see accompanying graph) and Vietnam with 62 mt at number three.
India would have surpassed Thai's highest figure—but for the three year ban (from 2008 to 2011), imposed by the then government on export of Non-Basmati rice. India suffered "export loss" of atleast 16-17 mt of rice during prohibition period, while there was no scarcity of cereal in that triennium. India has never imported rice on government account for last 25 years or so, and thus has a record of self-sufficiency. All rice exports are from private stocks—thus keeping food security fully insured through FCI and its agencies.
If data for the last five years is analysed, then India shipped out @10.9 mt each year—54.5 mt versus 47.5 mt of Thailand—because no ad-hoc tweaking in export policy was done by the government. That is how it should be. Exports require unrestricted access to markets and any ban or change in policies entail handing over clients to competition. Thailand, due to its government's irrational paddy pricing policy of 2011, outpriced itself from African/Asian markets. Its rice quality suffers due to processing from old-damaged paddy.
In 2017-18 too, India is likely to maintain annual shipments of 11-12 mt of rice in a world trade of 42 mt. This sustained success should be highlighted in all international fora to build India's brand image as a quality and quantity exporter of rice.
The government's programme to "Bring the Green Revolution to Eastern India (BGREI)" through improved technologies launched in 2010 has realised significant productivity gains in Bihar, Chhattisgarh, Jharkhand, eastern Uttar Pradesh, West Bengal, and Odisha.
India's annual production is about 110 mt of milled rice; opening stocks of 19 mt; total availability is 129 mt versus local consumption of 100mt + exports of 11mt, thereby leaving surplus of 18 mt as of now.
India lacks presence in South-east Asian market of Indonesia, Philippines and China where Thailand/Vietnam dominate because of logistics and historic continuity. China, too, is turned regular importer of 4 mt annually where our presence is negligible.
Basmati
Total annual production of Basmati is about 10 mt. Saudi Arabia, Iran, Iraq, UAE, Kuwait remain prominent markets of 3-4 mt of Basmati rice annually. Basmati Pusa 1121and 1509 varieties released, respectively in 2003 and 2013, by IARI in parboiled form have proved to be a boon for the farmers/millers and buyers in Iran/Saudi Arabia as it is 40% cheaper than traditional Basmati with grain length of 20 mm after cooking. At present, it trades at $1150 fob versus $900 fob last year. Thai fragrant rice competition is subdued with Pusa 1121.
Sortexed capacities involving optical and electronic sorting machines have been upgraded by rice millers for uniformity in color/quality. Prominent rice exporters are also targeting the US and the EU—though they keep raising issues of Minimum Residue Levels of fungicide, which adversely affects volume and velocity of exports.
Non- Basmati
Nigeria and Francophone countries of West Africa (Benin Liberia, Mali, Guinea, Senegal, and Ivory Coast) South Africa, UAE are some of the major destinations of Indian Non-Basmati rice exports of 6-7mt per annum. Trade with African nations is preferably done through intermediaries in France/Switzerland/UAE to ensure payment. In addition to 25% broken white rice, India is prime player in 5% parboiled and 100% broken white silky sortexed rice. Multiple varieties of rice like—Pant 4, IR64, IR36, IR8, 1001, Sona Masoori—offer choices for right pricing.
Nigerian/Benin market is of 2 mt per annum where Thai and Indian parboiled rice sell at par in equal ratio; entire Liberian market of 0.5 mt needs Indian parboiled variety only; Ivory Coast has annual demand of 1.3 mt with 50% market share of Indian parboiled/white rice. Senegal demands 1.2 mt annually 100% broken white silky sortexed rice where Indian share is 60%—rest goes to Thai and Uruguay.
Bangladesh—The new kid on the block
This year Bangladesh needs to import 1.5 mt of Non-Basmati rice-that could go up to 2 mt. Import duty has been reduced by the government of Bangladesh (GOB), to 10% from 28%—thus confirming desperation of demand. GOB has issued five tenders of 50,000 mt each where 0.1mts Indian 5% parboiled rice is contracted at $430 and $445 C&F, while local wholesale price in Bangladesh is taka 45/kg or about $560/mt. GOB also bought 0.2 mt of Vietnamese parboiled rice at $470/mt C&F.
Indian private traders are daily making truck dispatches from West Bengal/Bihar to Bangladesh and have dried up market surpluses in these two states. Additional demand will be catered from Jharkhand/ Chhattisgarh by land route or from Kakinada via sea. Price of 5% parboiled rice which was $400 C&F Chittagong in May 2017 is higher by 10% now. Indian prices are under tremendous pressure due to demand pull from Bangladesh that will make rice expensive for African markets as well.
India's farm produce is private; mills are private; traders are self-employed who arrange financing privately; market risk of profit and loss is private; buyers/importers too are largely private. Rice inflation is under control. The lesson is that the less the government the better the trade. Momentum of rice export can be maintained if the government avoids tinkering with current policy profile. Rice is the only agro-commodity that has weathered the test of time in national and international markets.