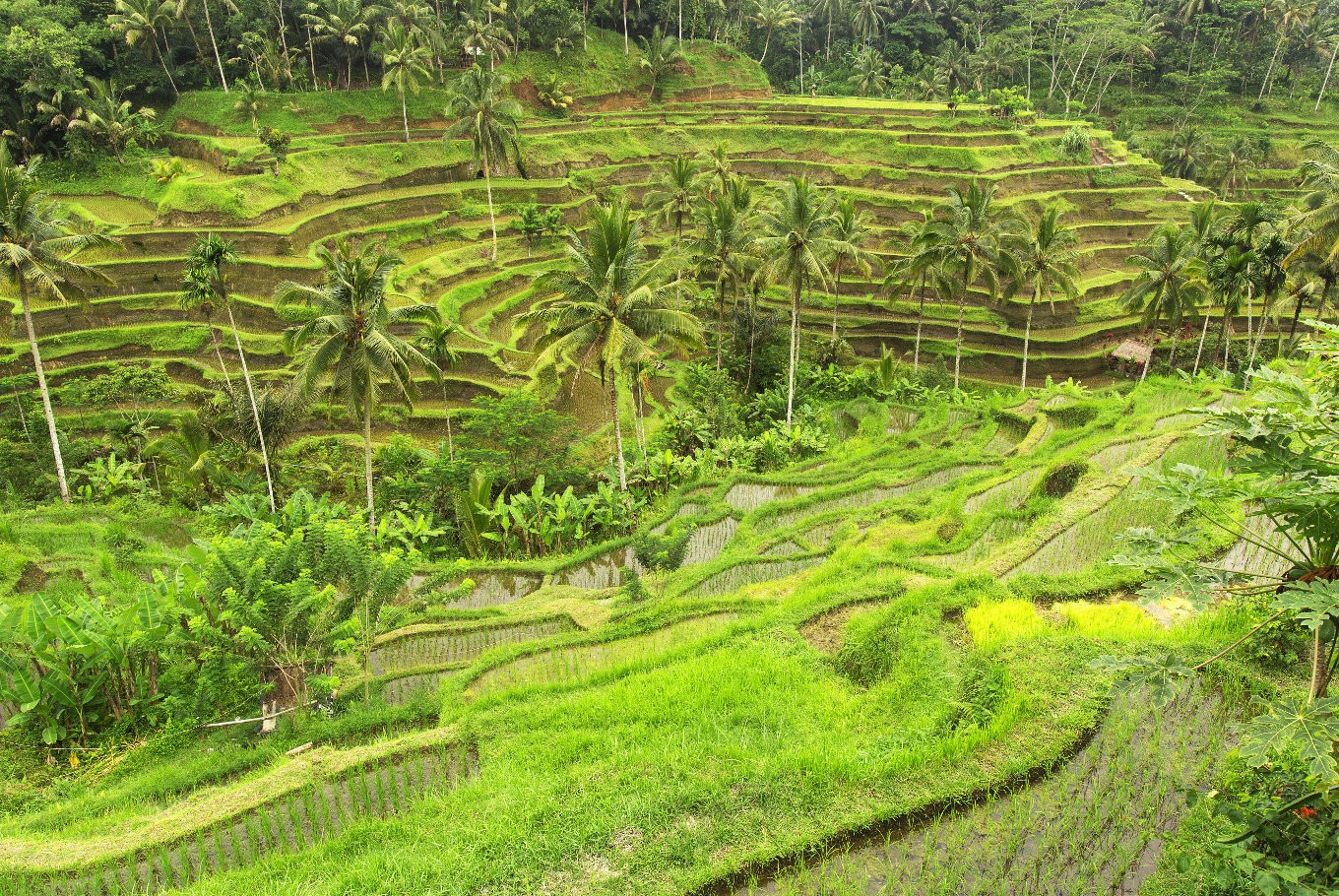 Terraced paddy fields in Ubud, Bali. (Shutterstock/File)
On the eve of the presidential debate on energy, infrastructure, and environment, our thoughts turn to Indonesia's future on these vital and related issues. What forms of energy will our country use in the future: solar or coal? Will our roads and ports be climate-smart and resilient? Will we protect and restore our cherished natural environment, the only one we have?

We note with gratitude that the national government has already made strong commitments to a low carbon future, including through National Development Planning Agency's (Bappenas) impressive Low Carbon Development Initiative (LCDI).

We sincerely hope that whichever presidential candidate is successful will honor the commitments made in the LCDI, as well as to continuing the many positive achievements of the current government across many of the issues which concern us: better nutrition and diets; enhanced rights for local communities, including through the social forestry scheme; and reduced deforestation.

As representatives of the Food and Land Use Coalition — a global alliance of countries, companies, and organizations seeking to transform the world's food and land use system — we also hope that both candidates will set out a coherent and ambitious vision on the role of forests and marine ecosystems, sustainable agriculture and healthy and sustainable diets for Indonesia's future.

To address these issues, the Food and Land Use Coalition has drafted an "Action Agenda for a New Food and Land Use Economy for Indonesia", highlighting some of the most promising policies, innovations and reforms which would enable Indonesia to achieve food and nutrition security for its people, while protecting and restoring its natural environment.

On the eve of the presidential debate on these issues, we respectfully offer six reflections arising from this work and from an extensive process of dialogue with Indonesian experts across disciplines and regions over the past year.

First, we believe that regional, subnational leadership is critical to delivering a better food and land use system. Indonesia is characterized by great diversity. Leaders at the subnational level need to be empowered and well-informed to deliver better outcomes for nutrition, food security, agricultural production, and the natural environment.

The future is to a significant extent in their hands, and they should be equipped with the tools and powers necessary to deliver the sustainable food future they wish to see in their diverse and complex regions.

Second, we believe that there is a strong link between Indonesia's commitment to achieve universal health coverage and the need to ensure a healthier and more sustainable food system. We believe that it is important to link healthy production to healthy consumption as a means of substantially reducing the long-term risk of catastrophic non-communicable diseases and the associated healthcare costs.

This integration will require a strong frontline information system for both sectors, the formation of new and innovative public-private partnerships with the food industry, and committed and well-trained "transformation" officers in senior positions at the national, provincial and especially at the district level. This type of integrated rapid transformation project is possible, and many districts and municipalities can lead the way.

Third, we believe Indonesia needs to find new ways of generating good jobs for rural people, including young Indonesians, working in the food and land use sector.

Here, we demonstrate that better agricultural productivity, combined with reduced food loss and waste, can lead to better wages and jobs for the Indonesian workforce in rural areas.

In our view, the state should increase its investment in technology-enabled extension services and in incubators in rural areas which encourage new agricultural models, including climate-smart agriculture and the restoration of degraded lands.

Fourth, we believe in the vital role of the One Map policy and its implementation.

We believe that if Indonesia truly follows through on the implementation of the One Map, it will resolve costly conflicts arising over different forms of land and marine use.

Fifth, we set out in our Action Agenda an argument for the progressive redeployment and refashioning of agriculture and fertilizer subsidy regimes to enable such a transformation to take place.

While the political economy of such a transition is not straightforward, we believe that all stand to benefit in the long run from better use of scarce public resources to deliver optimal outcomes for poorer communities in the rural sector.

Sixth, and finally, we express our heartfelt hope that the next president and his ministerial team will double down on their commitment to protect and restore Indonesia's critical ecosystems. We are blessed as a country with a uniquely diverse and rich terrestrial and marine environment: It is our duty to protect it.

Working with local communities, we believe that social forestry, restoration, payment for ecosystem services and new models are needed to assist with the preservation and restoration of Indonesia's natural environment.

Witness the lives saved by intact mangroves in Sulawesi, following the recent tragic natural disasters, which have affected our country, as one powerful example among many of the role the natural world plays in all our lives.

In summary, we commend these issues to our presidential candidates. We believe very deeply that a new food and land use economy will be central to securing Indonesia's long-term economic growth and prosperity, and stand ready to work with the future president and his government to make these ideas a reality in the years ahead.

There is no time to lose.