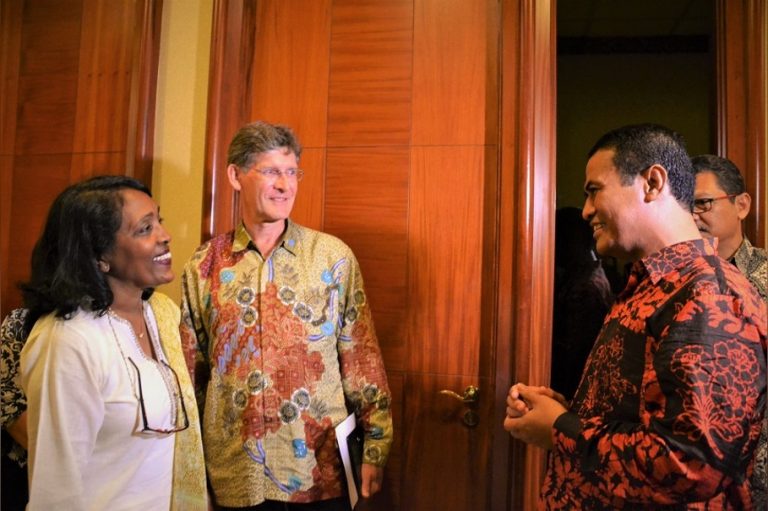 Assistant Director General and FAO Regional Representative for Asia and the Pacific Kundhavi Kadiresan, left, met with the Indonesian Minister of Agriculture, Amran Sulaiman, right, on Sunday (12/03). (Photo courtesy of FAO)
Jakarta, Indonesia – During her visit to Indonesia, Assistant Director-General and FAO Regional Representative for Asia and the Pacific, Kundhavi Kadiresan, met today with the Minister of Agriculture, Amran Sulaiman, in order to exchange views on the growing collaboration between FAO and the Government of Indonesia.
Kadiresan learned about Indonesia's efforts in reaching rice self-sufficiency in 2016 through the national UPSUS Program and extended FAO's appreciation for those efforts.
"FAO appreciates Indonesia's achievements with respect to rice in 2016, resulting from major investment by the Government, and the Ministry of Agriculture itself, largely in infrastructure. The next step is to build a competitive and diversified agricultural sector that promotes farmer livelihoods and improved nutrition for all Indonesians." Kadiresan said.
Sustainable Development Goal 2 (SDG-2) targets zero hunger and much improved nutrition, while also accelerating agricultural growth. Yet the achievement of these objectives is hampered by various factors, including higher temperatures, more frequent extreme weather conditions, water shortages, and land degradation, all of which seriously affect agricultural productivity.
FAO, a specialized agency of the United Nations, works in close collaboration with the Ministry of Agriculture. Together they are promoting ecosystem approaches for a more resilient, nutritious, and productive agriculture, such as rice-fish farming, integrated pest management using a landscape approach in rice, and conservation agriculture in corn production. Additionally, FAO has been working with Indonesia in tackling avian influenza, rabies and other emerging pandemic threats with support from USAID and other donors.
Minister Amran Sulaiman further explained Indonesia's achievement in food security programmes and expressed his satisfaction with the cooperation between Indonesia and FAO. He also highlighted that in 2016, Indonesia managed to avoid imports of such strategic commodities as medium rice, fresh chilly, and shallots for consumption; and reduce the import of maize by up to 66,6 percent.
The two sides emphasized the need to strengthen their collaboration by streamlining ecosystem approaches into Indonesia's agricultural practices. They also placed an emphasis on empowering farmers and encouraging a more efficient market for agricultural products, through better value chains, in an effort to stabilize, and where possible reduce, food prices which would help to address rural poverty.