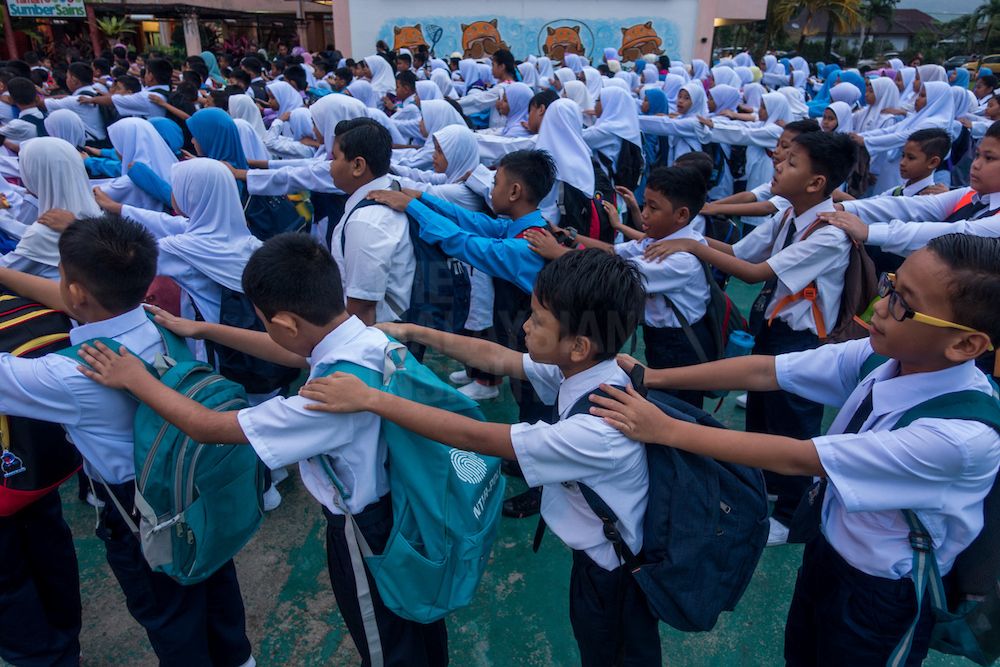 Pupils line up before class. New rules by the Education and Health Ministries prohibits 13 food items high in fat and salt content from being sold at school canteens. – The Malaysian Insight file pic, January 31, 2018.
The menu at school canteens may be in for an overhaul as fish balls, meatballs, and fish cakes are among 13 food items now banned under new rules by the Education and Health Ministries, Nanyang Siang Pau reports.
The Chinese-language daily said the Education Ministry's schools management division had informed the Malaysian Seafood Industries Association of its decision on January 17. The following day, food industry groups responded to the ministry to vouch for the safety standards of their products.
The ministries said these items were banned from being sold in school canteens because they were high in fat and salt content and were unhealthy for children.
Other items among the 13 banned foods are seafood balls, fries, burgers, nuggets, satay fish, chips, keropok, candy, chocolate, pickled fruits such as sour mangoes, instant noodles, 3-in-1 drinks, coffee, and tea.
Also banned from sale in canteens are foods that are past their expiry date, food that is packaged with toys and anything containing alcohol.
The ministries said the new policy is in line with the 1985 food regulations.
School canteens, however, had been selling food under the categories of "approved", "unapproved" and "not encouraged".
The new regulations now eliminate the last category altogether so that there is no leeway for "not encouraged" foods to be sold in schools.
Concerns over child nutrition came to the fore when the 2016 National Health and Morbidity survey released last year showed that 28% of children aged between 23 months to 12 years in Putrajaya were stunted due to chronic malnutrition.
At the national level, the study found that 20.7% of all children below 5 had their growth stunted due to malnutrition.
A straw poll by The Malaysian Insight then found that 6 out of 10 families depended on nurseries and kindergartens to feed their kids as parents did not have the time to make packed meals. Most of these meals involved biscuits and high-carbohydrate but low-protein foods.
Nanyang reported that the Malaysia Seafood Industries Association was insisting that its food products were safe to consume and beneficial to health.
The Malaysia Foodstuff and Toy Merchant's Association meanwhile was reported saying that the new rules were too strict and questioned what was left for children to eat in school.