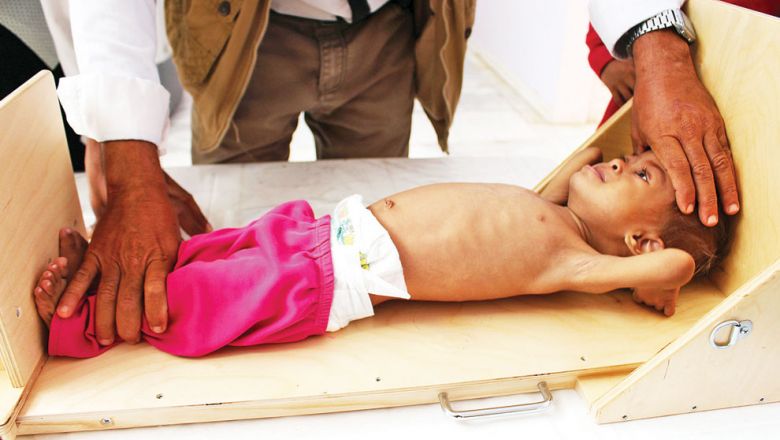 A Yemeni child suffering from severe malnutrition is measured in a hospital in Yemen's northwestern Hajjah province. ESSA AHMED/afp
The consumption of a healthy, balanced diet throughout life is essential to the maintenance of good health and the prevention of malnutrition, non-communicable diseases (NCDs) and other medical conditions.
This means eating right proportions of a wide variety of foods, and the right amount of food and drink, in achieving and maintaining a healthy body weight.
The exact composition of a diverse, balanced and healthy diet varies with individuals, depending on factors like age, gender, physical activity; availability of foods; as well as cultural context and customs.
The basic principles of a healthy diet, however, are the same.
Dietary patterns have altered because of urbanization, changing lifestyles and availability of processed foods.
Malnutrition
Malnutrition refers to deficiencies, excesses or imbalances in the intake of energy and/or nutrients. It comprises three broad categories:
Under-nutrition, which includes wasting (low weight-for-height), stunting (low height-for-age) and underweight (low weight-for-age).
Micronutrient-related malnutrition, which includes micronutrient deficiencies, for instance – lack of important vitamins and minerals, or micronutrient excess.
Overweight, obesity and diet-related NCDs, such as heart disease, stroke, diabetes, and some cancers.
Global Nutrition Report 2018
The report was released on November 29. It was written by an independent expert group of leading academics, researchers and government representatives with data from the World Health Organisation (WHO), the World Bank and UN Children's Fund (Unicef).
The strategic leadership of the report is provided by a wider stakeholder group from government, donor, civil society and multilateral and private sector organizations.
It is a report card on the world's nutrition globally, regionally and nationally and provides an assessment of progress in meeting global nutrition targets adopted by the World Health Assembly.
The global nutrition targets for 2025 are 40 percent reduction in the number of children under five who are stunted; 50 per cent reduction of anaemia in women of reproductive age; 30 per cent reduction in low birth weight; no increase in childhood overweight; increase the rate of exclusive breastfeeding in the first six months up to at least 50 per cent; and reduce and maintain childhood wasting to less than five per cent.
No country is on course to meet the global nutrition targets for 2025.
Among the criteria for malnourishment were:
Stunting in children aged under five years ≥20 percent;
Anemia in women of reproductive age ≥20 percent;
Overweight (body mass index ≥25) in adult women aged 18 years and more ≥35 percent.
Stunting in early life, particularly from conception until the age of two, has adverse consequences.
These consequences include poor cognition and educational performance, low adult wages, lost productivity, and when accompanied by excessive weight gain later in childhood, an increased risk of nutrition-related chronic diseases in adult life.
Anemia increases the risk of maternal and child morbidity and mortality.
It also affects the cognitive and physical development of children, and work productivity of adults.
Overweight and obesity are risk factors for cardiovascular disease, diabetes, musculoskeletal disorders, and some cancers.
Malaysia was among 41 countries of the 141 reported who had all three "burdens". Of the members of Asean, Malaysia is the only one with all three burdens:
Brunei – Overweight
Cambodia – Anemia & stunting
Indonesia – Anemia & stunting
Laos – Anemia & stunting
Malaysia – Overweight, anemia, & stunting
Myanmar – Anemia & stunting
Philippines – Stunting
Singapore – Anemia
Thailand – Overweight & anemia
Vietnam – Anemia & stunting
Most of the other 41 countries are in Africa with income and development status behind Malaysia. Other upper-middle-income countries with three burdens were Albania, Iraq, Libya, Maldives, and South Africa.
In the assessment of Malaysia's progress, the reported stated that there was either no progress or it was worsening for under-five stunting, under-five wasting, anemia in women of reproductive age, and adult diabetes.
However, Malaysia was on course to meeting the under-five overweight target.
The Unicef representative to Malaysia described the findings as alarming and stated: "The combination of obesity, stunting, and anemia in Malaysia is a growing public health emergency and needs to be treated as such."
Going forward
The current Deputy Prime Minister responded to the Global Nutrition Report by stating that the government is in the process of developing the National Children Well-Being Roadmap (NCWR) to address the issue of malnutrition among children and would be proceeding with existing efforts, including the National Plan of Action for Nutrition of Malaysia (NPANM) 2016-2025, which is the third in the series.
This was in marked contrast to the response of the previous Education Minister to the Unicef report of stunting and wasting amongst the children of the urban poor in the Klang Valley in March this year.
The Health Ministry's response on both occasions was a deafening silence. The NCWR is work in progress.
The NPANM 2016-2025 contains a review of the previous plan, various strategies, process and output indicators. It stated that Malaysia did not achieve its targets for reducing stunting, wasting, anemia in women of reproductive age, overweight and obesity by 2015.
The NPANM targets for 2025 are reduction of stunting to 11 percent, wasting to 5 percent, anemia in women of reproductive age to 11 percent, and "no increase from baseline data" for overweight and obesity.
Some of the targets for 2025 are achievable.
For example, zero anemia rates in pregnant women at the time of delivery can be achieved within a year or two without any additional financing, provided there is commitment and effort.
The 2025 target of "no increase from baseline data" for overweight and obesity is pathetic, to say the least, and is tantamount to acknowledging defeat before even starting. Is this in accordance with the Health Ministry's vision and mission?
How would the Health Ministry address the ingredients of this perfect storm and public health emergency?
Those interested in healthcare await their response with bated breath.