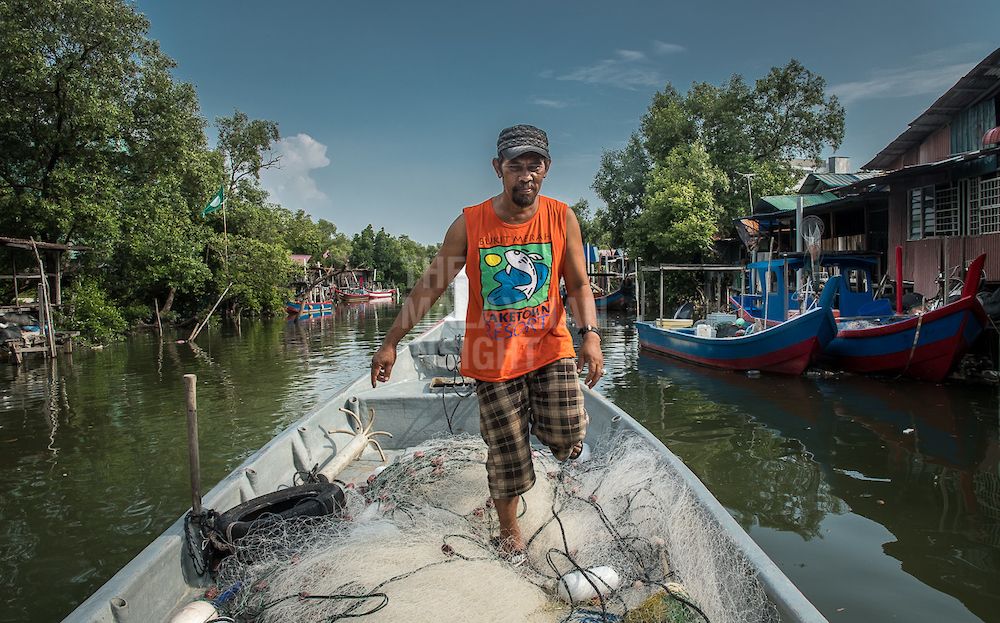 Fisherman Badrul Hisham Hashim, 49, at the Sungai Kluang fishing village in Bayan Lepas. Penang's fishing communities have been struck by the ill effects of changing sea currents, due in part to the state's land reclamation projects. – The Malaysian Insight pic by David ST Loh, March 3, 2018.
If nothing is done to protect the environment and natural marine ecosystem, food security in the country and people's livelihoods would risk falling into jeopardy, warned Penang fishermen.
They said the coastal and marine ecosystems surrounding Penang island and the mainland must be protected at all costs to ensure sustainability and prevent the extinction of fisheries resources.
No, or lack of, protection, said Penang fishermen, would also adversely affect the livelihoods and welfare of fishing communities in the state.
This could also lead to an increase in the price of fish and other seafood.
Over the years, siltation of the seacoast and foreshore has caused damage to marine life, such as seaweed and coral species, that are essential for the survival of fishes and prawns.
Jelutong fishing unit leader Badrul Hisham Hashim, 49, said that one bone of contention of the Jelutong fishing community was a nearby dumping ground that began operations in the 1970s.
He said the dumpsite, which had grown over time, protruded into the sea, causing such a shift in sea currents that the resulting mud is pushed back in the direction of the Jelutong fishing settlement.
He said land reclamation activities near the first Penang bridge also contributed to the shift in sea current.
As a result, the level of the foreshore where many fishermen's huts on stilts are located has risen drastically as the mud is pushed towards the direction of the shore, causing this part of the sea to become shallow.
"We no longer can fish in this part of the sea because the mud has killed the marine life that used to be fodder for the fish and prawns," said Badrul.
"But worse, we can only use our motorized fishing boats during very high tide when they are able to move into the deep sea."
Several fishermen opt for deep-sea fishing because of the depletion of fish in areas near the sea coast.
"But not many of us can do this," said fisherman Mohd Taib Rejab, 55. "This is because you need bigger and sturdier boats, which means you need better financial resources, and you also face higher costs of production."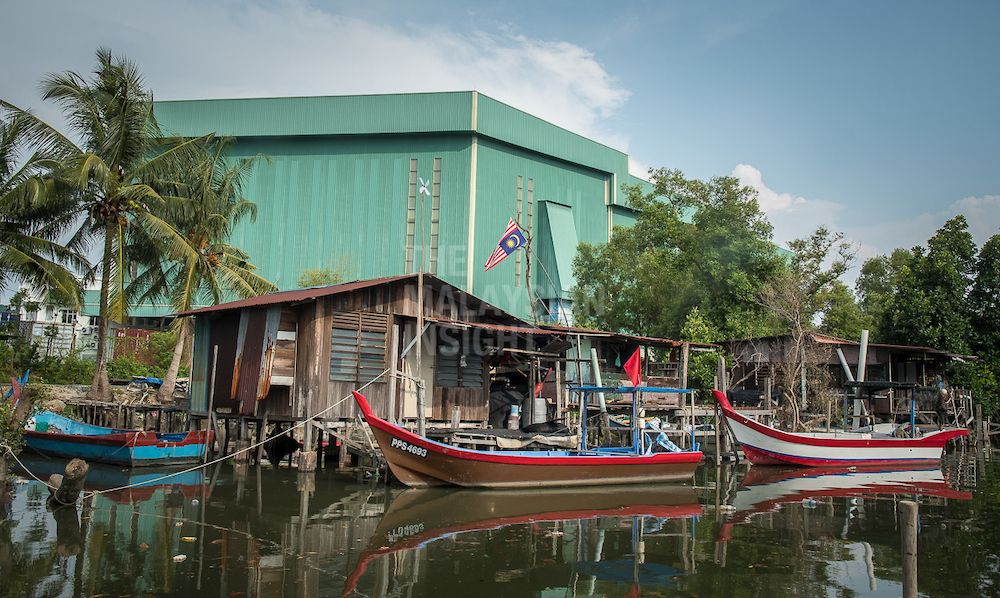 A view of Sg Kluang fishing village at the mouth of Sungai Kluang is surrounded by the Penang industrial zone in Bayan Lepas. – The Malaysian Insight pic by David ST Loh, March 3, 2018.
Larger boats used for deep-sea fishing are equipped with powerful engines, sophisticated GPS systems, and sonar scanning to locate fishing grounds.
Many of the fishermen with scarce financial resources settle instead for smaller boats and pedoman, a traditional way of locating fishing grounds by mentally marking two or three faraway identifiable objects, such as the tip of a rock at sea or the edge of an island.
Taib, who has about 30 years of fishing experience, said the average monthly income of many fishermen had been almost halved over the years because of current challenges, despite a monthly government allowance of RM300.
For most fishermen in Jelutong, said Badrul, fishing is their only source of income, which is why developments, such as the proposed Penang South Reclamation at the southern coast of Penang Island is a major concern for them.
He said the project posed not only an environmental nightmare but is also in an area abundant in prawns.
Head of Batu Uban's fishing unit Abdul Razak Abdullah said his fishing community also faced similar siltation problems, so much so that some fishermen had to take on a second job to supplement their depleting income.
"Some of them ferry fishing hobbyists on weekends to areas that have fish, such as the grounds near the first Penang bridge. They charge a fee for the transport," he said.
The 61-year-old himself sells cakes to earn an extra income while a few other fishermen transport kitchen gas cylinders to houses for a small fee.
Razak believed the siltation on the foreshore of the Batu Uban fishing community was partly caused by the reclaimed land project in front of Queensbay Mall, as well as fishing trawlers that occasionally come to the seafront to scoop up everything on the seabed, including coral, seaweed and marine life.
Razak said he was also concerned that certain species, such as gelama pisang, gelama selampai, and kerapu, had become endangered if we're not already completely wiped out.
Another fisherman said they used to catch so many prawns offshore that they would have weekly Pesta Udang (Prawn Festivals) in Batu Uban.
"We no longer enjoy that luxury these days."
Badrul, meanwhile, said the welfare of the multi-ethnic fishermen in the state should be addressed by the state and federal authorities, especially given their contribution to regional and national food security.
He said fishing settlements should also be designated heritage sites.