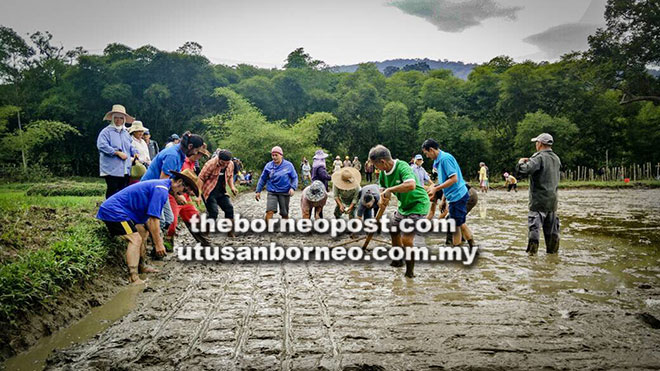 Farmers using the SRI farming method to plant the padi saplings.
KUCHING - The padi farmers of Long Semadoh in Lawas are adopting the 'System of Rice Intensification (SRI)' farming method recommended by an NGO to boost their padi production.
Chief executive officer (CEO) of SRI Lovely Sdn Bhd Zakaria Kamantasha, who is a trainer and expert in SRI, said SRI is an agro-ecological methodology for increasing the productivity of irrigated rice by changing the management of plants, soil, water and nutrients.
"The benefits of SRI have been demonstrated in over 50 countries, for example countries such as China, India and the Philippines. This method gives 20 to 100 per cent or more increase in rice yields and up to 90 per cent reduction in required seed, and up to 50 per cent water savings," revealed Zakaria to The Borneo Post yesterday.
"Through the adoption and application of agroecology-based practices, we seek to promote community development and a sustainable and resilient food system for the people and the community in Long Semadoh," he added.
Zakaria further said he had adopted SRI in totality at his award-winning integrated organic farm, SRI Lovely Sdn Bhd, since 2011.
He said the system hoped to complement the traditional practices of padi planting and help the rural community to earn better incomes.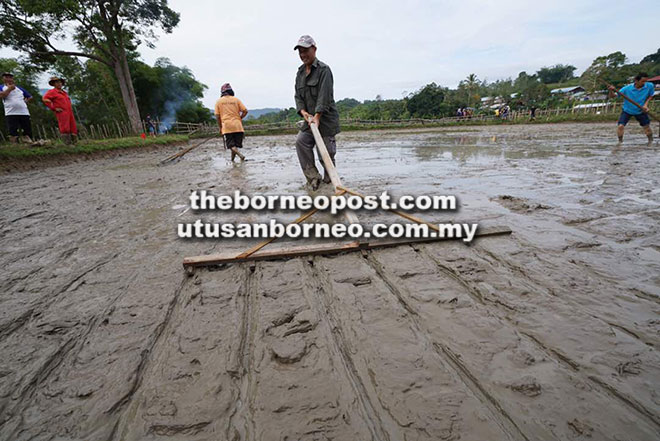 Participants making a grid on the top soil before padi saplings are planted at Long Semadoh.
For this community project in Long Semadoh, Zakaria said SRI Lovely collaborated with two other companies and NGOs which are related to him; namely SRI Mas and SRI Langit Shd Bhd.
He added that the objective of the project is to spur community development and economic empowerment of rural communities, which in turn will help in enhancing food security in Malaysia.
Zakaria explained that as a social enterprise that aspires to bring economic empowerment to rural communities and smallholder farmers, they work directly with the communities to bring their agricultural produce to a larger audience.
"More importantly, we ensure that the farmers' efforts are compensated with commensurate financial reward through fair pricing mechanisms. On top of that, we commit a minimum of 30 per cent of SRI Langit profits to introduce community-appropriate technologies to reduce intense physical labour and to increase the yield of the crops," he pointed out.
On the workshop held recently at Long Semadoh, Zakaria said it was specially designed for the farming community there after taking into consideration their long history and ample experience in padi planting.
He revealed that the two-day workshop delivered a brief theoretical understanding of the methodology and emphasised on practical physical demonstrations and hands-on learning in the field.
He said Long Semadoh is a producer of the highly prized 'Beras Adan', which is a local heirloom rice variety from the highlands of Borneo.
"This is the gem of the highlands and the pride of the farmers of Long Semadoh and we hope that this method of padi planting can boost their rice production," he added.
Apart from promoting 'Beras Adan', SRI Langit and SRI-Mas aim to further elevate the income of the padi farming community of Long Semadoh through the introduction of SRI, he said.
He added that higher yield of 'Beras Adan' coupled with proper packaging and marketing will translate to higher income for the farmers of Long Semadoh.
A participant, Singa Buas, said the community project is well accepted by the padi farmers in the village and hoped that it will also boost their padi production and also income.
"We thank the trainers for helping us and also for sharing their expertise. We always welcome any methodology that can assist us, especially in rice production," he said.
A total of 84 participants attended the two-day SRI workshop and a community programme for padi farmers in Long Semadoh that started on July 17.