Amid high levels of undernourishment and food insecurity, the Philippines has one of the highest numbers of overweight children and obese adults in Southeast Asia, says a UN report.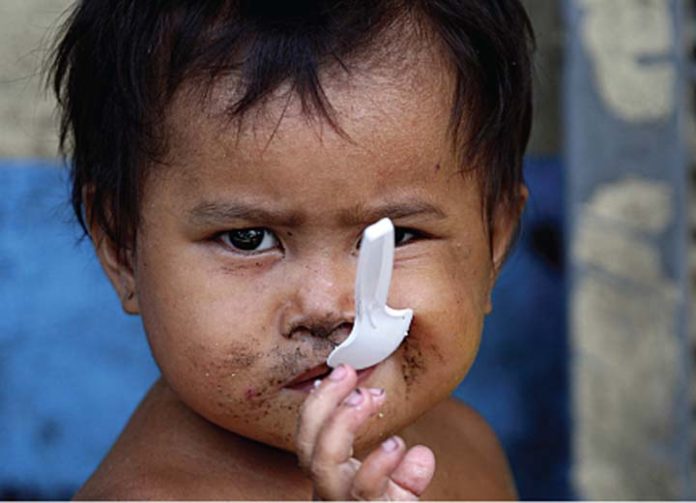 In Photo: In this September 6, 2010, file photo, three-year-old homeless child Minerva Botongan bites a plastic spoon as she takes a meal given to her and her family by good Samaritans on a street in Manila.
Millions of Filipinos are undernourished and food-insecure, but the Philippines has one of the highest numbers of overweight children and obese adults in Southeast Asia, according to the World Hunger Report 2018.
The report, released by the Food and Agriculture Organization (FAO), International Fund for Agriculture Development, the United Nations Children's Fund (Unicef), World Food Programme (WFP) and the World Health Organization (WHO), showed there are 14.2 million undernourished Filipinos and 13.3 million food-insecure Filipinos.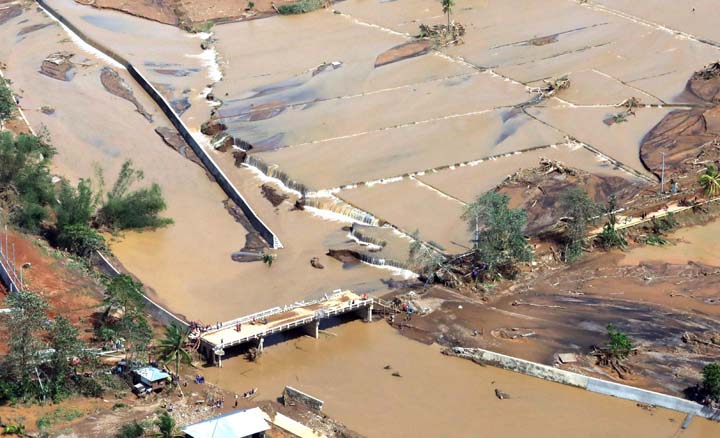 However, there are 400,000 overweight children aged 5 years and below, and 3.8 million adults aged 18 years old and above who are regarded as obese.
"Food insecurity contributes to overweight and obesity, as well as undernutrition, and high rates of these forms of malnutrition coexist in many countries. The higher cost of nutritious foods, the stress of living with food insecurity and physiological adaptations to food restriction help explain why food insecure families may have a higher risk of overweight and obesity," the report stated.
Climate-change factor
In Southeast Asia, Indonesia has the highest number of undernourished citizens at 20.2 million. It also has the highest number of obese children at 2.8 million and 12 million adults who are overweight.
Further, the report stated that the Philippines's hunger and nutrition challenges are compounded by the ill effects of climate change. The report stated that medium- and large-scale disasters negatively impact the food value chain. Between 2006 and 2013, the report added, the Philippines was struck by 75 disasters—mostly typhoons, tropical storms, and floods.
These caused damage and losses worth $3.8 billion to the country's agriculture sector, or an average of $477 million annually. This, the report stated, accounts for a quarter of the country's budget allocation for the farm sector.
"In the Philippines, for example, more intense typhoons have important consequences for food security. They have significant negative effects on households that depend on farming livelihoods," the report stated.
"And there is also evidence that El Niño has been equally destructive by lowering rainfall in some Philippine regions with severe impacts on incomes, affordability of food, livelihoods, nutrition, and dietary diversity," it added.
Sustainable shift
The challenges faced by countries are making it more difficult for them to meet the Sustainable Development Goals (SDGs), particularly those indicators that are geared toward ending multiple forms of malnutrition and hunger.
The report called for implementing and scaling up interventions aimed at guaranteeing access to nutritious food and breaking the intergenerational cycle of malnutrition.
Policies must pay special attention to groups who are the most vulnerable to the harmful consequences of poor food access: infants, children aged under 5, school-aged children, adolescent girls, and women.
At the same time, the report stated that a sustainable shift must be made toward nutrition-sensitive agriculture and food systems that can provide safe and high-quality food for all.
Clear warning
The report also called for greater efforts to build climate resilience through policies that promote climate-change adaptation and mitigation, and disaster risk reduction.
"The alarming signs of increasing food insecurity and high levels of different forms of malnutrition are a clear warning that there is considerable work to be done to make sure we 'leave no one behind' on the road toward achieving the SDG goals on food security and improved nutrition," the heads of the UN FAO, the International Fund for Agricultural Development, Unicef, the WFP and the WHO warned in their joint foreword to the report.
The number of hungry people in the world in 2017 reached 821 million, or 1 in every 9 people; in Asia, 515 million; in Africa, 256.5 million; and in Latin America and the Caribbean, 39 million.
Children under 5 affected by stunting (low height-for-age) reached 150.8 million or 22.2 percent of the total; children under 5 affected by wasting (low weight-for-height), 50.5 million or 7.5 percent; and children under 5 who are overweight (high weight-for-height), 38.3 million or 5.6 percent.
The percentage of women of reproductive age affected by anemia accounts for 32.8 percent; the percentage of infants aged below 6 months who were exclusively breastfed, 40.7 percent; and adults who are obese, 672 million, which is 13 percent or 1 in 8 adults.