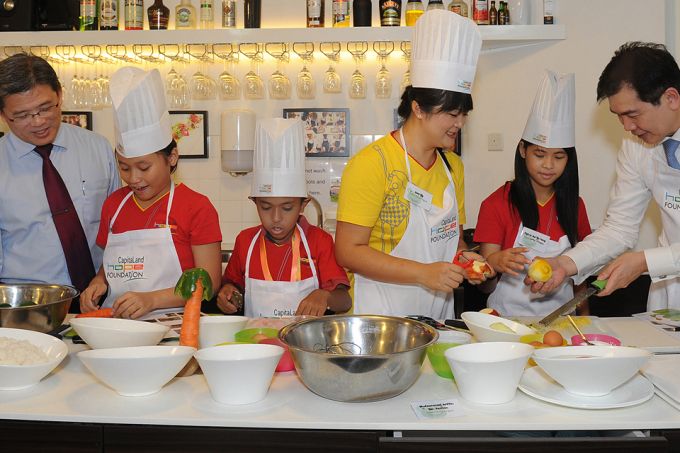 BT 20170920 AAt the launch of CapitaLand Hope Foundation's Kids' Food Fund 2013. CapitaLand CCO Mr Tan (far left) who is also executive director of the group's philanthropic arm looking on as the junior chefs do their thing. CapitaLand CEO Lim Ming Yan (right) and staff volunteer Joey Ng lending a helping hand to another `apprentice'. PHOTO: CAPITALANDLMXSIAS 3091208
REAL estate juggernaut CapitaLand knows a thing or two about reach exceeding its grasp when it comes to its sustainability agenda.
Last year, the property giant cut its carbon emissions intensity by 26 percent and water intensity by 22 percent from 2008 levels. In doing so, it beat its 20-23 percent target cuts by 2020, way ahead of schedule.
Also last year, it extended its Kids' Food Fund Singapore programme that aims to improve food security and nutrition for underprivileged children, to children undergoing medical treatment for specific conditions at the pediatric ward of the National University Hospital (NUH).
This was done through the establishment of the CapitaLand-NUHKids Nutrition Fund, which donated S$50,000 to improve the nutrition of pediatric patients from financially challenged backgrounds.
The company managed to support 32 beneficiaries through the fund, 12 more than the original 20 beneficiaries it had earlier targeted. About six in 10 of its beneficiaries also saw an improvement in weight since being supported under the programme; out of this, four-fifths met the optimal weight gain as advised by NUH.
These were just some of the initiatives that the property developer pushed out in the past year.
Bagging a sustainability award at the Securities Investors' Association (Singapore) 18th Investors' Choice Awards, Tan Seng Chai, group chief corporate officer (CCO) and chairman of the group's sustainability steering committee, says the group is "encouraged" that its sustainability efforts have been recognised not just by industry bodies, but also international and regional indices, local authorities, and investment communities. "They spur us to continue this journey," he says, adding that CapitaLand is the longest-standing Singapore company recognized in the Dow Jones Sustainability Index, having been the first from the republic to be listed when the regional index was launched in 2009.
Asked to comment on the sometimes-held notion that only companies of a certain scale have the money to splash on sustainability initiatives, he says that big companies also face their own shares of challenges, such as having to manage projects across multiple jurisdictions and different climate conditions.
Different climatic conditions such as seasonal weather add complexities in understanding and improving its building energy and water consumption performance.
"Therefore, when we embarked on this journey, we decided to monitor and report in accordance with international frameworks, and have our report externally assured to international standards." He adds: " We encourage all companies big and small to simply take the first step. We are still on this journey. We will continue to learn, to collaborate with others, and calibrate our programmes accordingly."
Above all, its discipline of setting green building rating targets, energy, and water consumption targets, and subsequent monitoring of indicators such as waste generation and the use of building materials, also help it to save costs.
For instance, in Singapore, water charges have increased in July this year, and a carbon tax will be imposed from 2019. But CapitaLand is prepared for these changes because it has already been working to attain efficiency in its energy and water consumption.
Efficiencies in its energy and water consumption have amounted to utility cost savings of more than S$108 million since 2009, it says - no mean sum.
Besides its sustainability award, CapitaLand also won an excellence award in the big-cap category for shareholder communications this year.
The company says it practices two-way communication with its shareholders. Besides keeping stakeholders (including media and analysts) informed about the company's strategies and operations through timely disclosures, it also obtains feedback from its stakeholders on how it can improve.
For instance, for its recent announcement of changes to its management and that of its subsidiaries that will take effect next year, CapitaLand communicated this not only through SGXNet and the media, but also at investors' meetings.
"Feedback has been positive as the appointments serve to deepen capabilities group-wide and to support the next phase of CapitaLand's expansion," Mr Tan says.